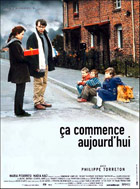 A very touching movie about a schoolmaster of a local kindergarten in a small and very poor French town, where unemployment rate reached 34% (more than in Poland, incredible!). Daniel Lefebvre (played by Philippe Torreton), the schoolmaster, has to fight with the Social Security System, Child welfare and even the mayor of the city, to actually make some change. Unfortunately, it only gets worse and worse. This frustrating task brings him on the verge of an emotional breakdown.
It all Starts Today lasts for nearly two hours, but it doesn't lose its pace even for a single minute. We see Daniel in constant motion, dealing with large arrays of problems. And there are lots of them, ranging from personal dilemmas, troubles with both kindergarten and local children to dealing hostile attitude of Child welfare employees towards him (when in fact they should cooperate, instead of fighting each other).
This is a serious political drama straight in your ass face. Only this time it is not directed by Ken Loach, nor Mike Leight, but by a French director Bertrand Tavernier. We can clearly see his inspiration by the works of those two. It only makes this movie more worth one's while.
Simply said, it just blew me away.
Ça commence aujourd'hui/It All Starts Today (1999)
Rating: 10/10