WP Movie Ratings is a wordpress plugin perfect for movie fans who like to let the world know their opinion on what they've been watching. At its core is a bookmarklet, which combined with Internet Movie Database and a little bit of AJAX magic lets you rate movies with just one click. Also, there is no need to write the title of the movie as it is automatically fetched from imdb. Optionally, you can also write a short review for each movie. The output from this plugin is a list of recently watched movies, which you can put anywhere you want (it is a WordPress widget). Check out the live demo.
The published movie reviews are hReview compliant.

Latest stable version (for WordPress 2.8+): 1.8 (tar.gz, zip) (2019-10-13).
The current development version can be found at github.
Screenshots
Recently watched movies list: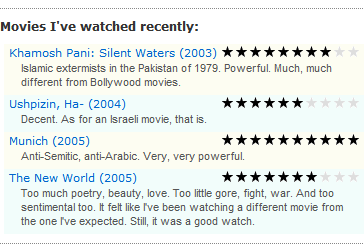 Bookmarklet in action (one click movie rating):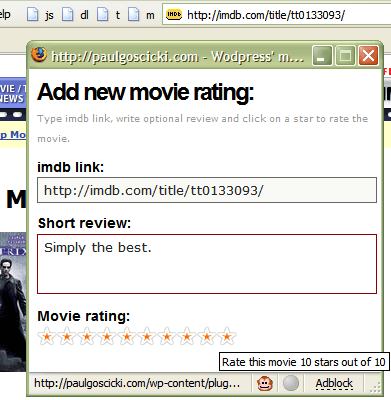 Requirements
WordPress 2.8+
FTP, SSH or SCP access to your wordpress blog (so you can upload this plugin).
Installation
Download the plugin.
Extract the contents of the .tar.gz/.zip file into the WordPress plugins directory (usually wp-content/plugins). Alternatively you can upload them using ftp. You should have a new directory there called wp_movie_ratings (just along the akismet directory).
Activate the plugin by going into your administration panel and selecting Plugins from the menu and clicking the Activate button for the WP Movie Ratings.
Go to the Manage section in the administration panel and see the new Movies menu option there (you'll find the bookmarklet there too). Rate at least one movie (using the bookmarklet or the administration page).
Go to the settings section in the administration panel and under the Movies tab customize this plugin's options.
Customize your theme by adding a new Widget to its sidebar called "Movie Ratings".
Make a new page listing all your movie reviews by adding a new page in WordPress with this as its content:

Sort list by: title | rating | view date ↓

December, 2019

Ad Astra (2019) 4/5

2019-12-15 22:21

Good psychological drama. 2 for also being a Sci-fi flick.

0.3

Star Wars: Episode IV - A New Hope (1977) 4.5/5

2019-12-15 18:50

Good ol' Star Wars. This time with the kids.

0.3

Rocketman (2019) 3.5/5

2019-12-14 21:51

Watchable.

0.3

Klaus (2019) 3/5

2019-12-14 19:04

Decent enough to watch with the kids.

0.3

A Rainy Day in New York (2019) 4/5

2019-12-13 21:42

Good old Woody Allen. Very enjoyable.

0.3

Ready or Not (2019) 3.5/5

2019-12-12 21:40

This was fun. Stupid, but enjoyable.

0.3

Ciemno, prawie noc / Dark, Almost Night (2019) 2.5/5

2019-12-11 22:04

Meh. Too complicated and too much mysticism.

0.3

The Last Black Man in San Francisco (2019) 2.5/5

2019-12-10 22:01

Mhm, too artsy for my taste.

0.3

Abgeschnitten / Cut off (2018) 3/5

2019-12-07 22:20

Meh. It was ok if you leave out ridiculously absurd ending.

0.3

Gisaengchung / Parasite (2019) 3.5/5

2019-12-06 22:19

Hah. It is good in many ways, but also too absurd in others. Not exactly my taste.

0.3

Freaks (2018) 4.5/5

2019-12-05 22:05

Great hidden gem for a Sci-Fi freak like me.

0.3

American Woman (2018) 3.5/5

2019-12-04 22:08

Decent drama.

0.3

Pity (2018) 3.5/5

2019-12-03 22:04

Greek absurdity strikes again. It's decent, but could have been so much better.

0.3

Very warm and charming drama.

0.3

The King (2019) 4.5/5

2019-12-01 22:29

Excellent! Loved it.

0.3

The Lion King (2019) 4.5/5

2019-12-01 18:44

Incredible animation. Probably best CGI so far. Great old story too.

0.3

November, 2019

Skin (2018) 4/5

2019-11-30 22:00

Very good!

0.3

Arctic (2018) 4/5

2019-11-28 22:27

Very good as far as survival movies are concerned.

0.3

Juzni vetar / South Wind (2018) 3.5/5

2019-11-26 22:42

Okeyish. Too cliche, hardly original at anything.

0.3

Ballon (2018) 4/5

2019-11-24 21:55

Good, just perhaps a little bit overdramatic.

0.3

La chute de l'empire américain / The Fall of the American Empire (2018) 3.5/5

2019-11-23 21:59

Too simplistic and naive, but very charming.

0.3

Der Fall Collini / The Collini Case (2019) 5/5

2019-11-16 22:39

Loved it.

0.3

Harmonium (2016) 3/5

2019-11-13 21:59

Ugh, Japanese movies, ugh. It is good for what it is, but it's difficult to watch.

0.3

The Young Pope (TV Series 2016) 3.5/5

2019-11-11 22:40

Goodish. It has a lot of dull moments and drags on, but then bombards you with unexpected brilliance and masterful dialogues (Voiello!). The plot is weird, the cinematography is outstanding.

0.3

Anna (2019) 3/5

2019-11-10 13:41

Meh. Kinda ok, but lacks the finesse.

0.3

Old story made great again.

0.3

Dynasties (TV Series 2018– ) 4.5/5

2019-11-03 17:53

Great documentary series to watch after Planet Earth.

0.3

October, 2019

John Wick: Chapter 3 - Parabellum (2019) 2.5/5

2019-10-20 17:21

Meh. Just non-stop senseless killing.

0.3

Pájaros de verano / Birds of Passage (2018) 4/5

2019-10-19 21:55

Interesting tale.

0.3

The Rider (2017) 4/5

2019-10-18 22:04

Authentic. Sad. Profound.

0.3

September, 2019

Kona fer í stríð / Woman at War (2018) 4/5

2019-09-24 22:16

Funny and smart.

0.3

Hjartasteinn / Heartstone (2016) 3.5/5

2019-09-22 22:28

Decent.

0.3

Der goldene Handschuh / The Golden Glove (2019) 4.5/5

2019-09-16 22:22

One of the most hard-core movies I had ever seen. Shocking, disturbing, violent. Ugh. It is great, but I cannot recommend it.

0.3

Der Junge muss an die frische Luft / All About Me (2018) 4/5

2019-09-13 22:08

Genuinely funny little gem.

0.3

The Dead Don't Die (2019) 3.5/5

2019-09-09 22:05

This one will be funny only if you like Jarmush or B-class horrors.

0.3

Prospect (2018) 4.5/5

2019-09-08 21:53

Great little indie Sci-fi gem. Raw, brutal, toxic, alien.

0.3

Missing Link (2019) 3.5/5

2019-09-07 19:11

Decent enough.

0.3

Blind (2014) 3.5/5

2019-09-05 21:55

Decent, decent.

0.3

Long. Drags on, boring at times, yet somehow engaging, capturing your attention till the inexplicable end.

0.3

August, 2019

I Am Mother (2019) 4.5/5

2019-08-22 22:10

Very good. Me likey. Humanity created by AI.

0.3

Werk ohne Autor / Never Look Away (2018) 4.5/5

2019-08-20 22:23

Excellent drama. Just excellent.

0.3

Kurier / The Messenger (2019) 4/5

2019-08-14 22:18

Decent. Not Pasikowski's best, but definitely good.

0.3

Avengers: Endgame (2019) 2.5/5

2019-08-13 22:12

What a mess. Nothing makes sense. Every bad movie franchise must resort to time travel when it cannot think of anything smarter. And with that, the story becomes an incoherent mess.

0.3

Al final del túnel / At the End of the Tunnel (2016) 3.5/5

2019-08-11 22:43

Decent, although too improbable.

0.3

Mirai / Mirai no Mirai (2018) 3.5/5

2019-08-11 18:24

Charming.

0.3

Wow. Incredible movie, awesome story, inspiring acting, great dialogs. Just wow.

0.3

Zabawa, zabawa / Playing Hard (2018) 4/5

2019-08-08 22:13

Solid.

0.3

Alita: Battle Angel (2019) 4/5

2019-08-07 22:36

Great effects, good story, awesome action. But the story ends dead right in the middle of it all. And we never even get to see Zalem. Pff.

0.3

Eter (2018) 3/5

2019-08-06 22:42

Meh. Zanussi and his vision of life eternal.

0.3

Juliusz (2018) 4/5

2019-08-04 22:10

Laughed quite hard during some parts. Decent story, some great dialogues.

0.3

Big Little Lies S02 (TV Series, 2019) 3/5

2019-08-02 21:16

Meh. First season was great. This one's not. Lacks the intrigue, lacks the spark.

0.3

July, 2019

The Man Who Killed Don Quixote (2018) 4/5

2019-07-26 22:49

Terry Gilliam. Love or hate. I liked it.

0.3

Dark S02 (TV Series, 2019) 4/5

2019-07-24 22:32

Eheh. Uhm, lol. OK... It keeps you on your toes. But please... it's starting to be more and more ridiculos.

0.3

Dark S01 (TV Series, 2017) 4.5/5

2019-07-21 19:44

Old and tired concept executed in a wonderful way. Keeps you on your toes, but also leaves you hanging in the end, without explaining a lot.

0.3

Donbass (2018) 1.5/5

2019-07-20 12:11

Uhm, I did not get that.

0.3

Kamerdyner / The Butler (2018) 3.5/5

2019-07-18 22:53

Great story, so-so movie. Just wasn't able to capture me.

0.3

Jak pies z kotem / Cat with a Dog (2018) 3/5

2019-07-16 22:34

Just OK. Drags on a little bit.

0.3

Taeksi woonjunsa / A Taxi Driver (2017) 4/5

2019-07-15 22:14

Decent. Even very decent.

0.3

Dragged Across Concrete (2018) 4/5

2019-07-13 22:47

Good, good. Big props for originality.

0.3

The Highwaymen (2019) 3.5/5

2019-07-09 22:50

Quite decent, perhaps a tad bit too long.

0.3

Le conseguenze dell'amore / The Consequences of Love (2004) 4.5/5

2019-07-07 21:57

Loved it 15 years ago, still love it now. Sorrentino Servillo are the best.

0.3

Borgman was really good. This one's not. Too bad.

0.3

Western (2017) 3/5

2019-07-05 10:32

Kinda boring and doesn't go anywhere.

0.3

Durante la tormenta / Mirage (2018) 2.5/5

2019-07-04 11:53

Meh. Same old tired movie concept, move along.

0.3

El Angel (2018) 3/5

2019-07-03 10:32

Okeyish. Kinda boring.

0.3

June, 2019

La ragazza nella nebbia / The Girl in the Fog (2017) 3.5/5

2019-06-30 22:45

Decent. And only that. Just a little bit too convoluted. Too many 180 degrees turns.

0.3

Gräns / Border (2018) 3.5/5

2019-06-29 22:11

Disturbing. Intriguing.

0.3

El reino / The Candidate (2018) 4.5/5

2019-06-26 22:45

Hah. Great ending to a very good political thriller.

0.3

Le chant du loup / The Wolf's Call (2019) 4/5

2019-06-25 22:38

Quite decent. Far from great, but definitely a watchable action flick.

0.3

Fighting with My Family (2019) 2.5/5

2019-06-23 22:17

Okeyish. The end credits were the most rewarding.

0.3

Aquarius (2016) 0.5/5

2019-06-23 20:40

No, just no.

0.3

Gongjak / The Spy Gone North (2018) 4.5/5

2019-06-22 22:49

Slow start, but once it gets going, it keeps you tense till the very end. Very good!

0.3

The Professor and the Madman (2019) 3.5/5

2019-06-21 22:33

Good story, decent movie.

0.3

Us (2019) 2.5/5

2019-06-18 22:32

Meh. Expected something much much better.

0.3

Quite bad and extremely boring.

0.3

Breath (2017) 4.5/5

2019-06-12 22:18

This one was exceptionally good. Wouldn't have thought it would move me that much.

0.3

Decent recreation of a terrorist attack in Mubmai. I'm also humbled by Dev Patel's charisma. Love watching him (Lion!)

0.3

Romulus & Remus: The First King (2019) 4/5

2019-06-09 22:46

Good. Good. Enjoyed the gore. Enjoyed the story.

0.3

Chernobyl (TV Mini-Series 2019) 5/5

2019-06-08 22:37

Wow, what an incredible series. A must watch.

0.3

Captive State (2019) 4.5/5

2019-06-01 22:00

It wouldn't work. All this sacrifice wouldn't change a thing. The movie is still brilliant.

0.3

May, 2019

Love, Death & Robots S01 (TV Series, 2019) 4.5/5

2019-05-29 21:37

Great collection of little gems. Some incredible, others usually pretty good.

0.3

Game of Thrones S08 (TV Series, 2019) 4.5/5

2019-05-21 22:10

Awesome series, no doubt about it. Perhaps rushed a little bit too much those last two seasons. I like how the story panned out, love what Jon did and how hard it was for him. Perhaps a little bit disappointed with the lack of wow factor in the very end.

0.3

Kubo and the Two Strings (2016) 4/5

2019-05-12 16:56

Very good story, nice animation. A tiny bit of humour.

0.3

Spider-Man: Into the Spider-Verse (2018) 4.5/5

2019-05-11 16:54

Great humour, good story, incredible animation. l liked it.

0.3

How to Train Your Dragon: The Hidden World (2019) 3.5/5

2019-05-04 18:47

Decent enough, but perhaps too much of the same old.

0.3

April, 2019

Foxtrot (2017) 3.5/5

2019-04-30 22:32

Watchable.

0.3

Yurusarezaru mono / Unforgiven (2013) 4.5/5

2019-04-29 22:47

Great watch, even though it's the same story. Ket Watanabe is perfect.

0.3

7 uczuć (2018) 4/5

2019-04-28 22:32

Decent, quite decent.

0.3

Loro (2018) 3.5/5

2019-04-27 22:57

Decent.

0.3

So-so. The kids loved it, though.

0.3

Todos lo saben / Everybody Knows (2018) 4.5/5

2019-04-26 22:56

Great all around. Loved the tension and how secrets were revealed.

0.3

Intriguing drama based on real events. Very good. Not too far from great.

0.3

Manbiki kazoku / Shoplifters (2018) 4.5/5

2019-04-20 22:23

Sad, but worthwhile.

0.3

Glass (2019) 3.5/5

2019-04-19 23:04

Kind of underwhelming conclusion to Split/Unbreakable. Watchable, but leaves a bitter taste.

0.3

Cyborgs: Heroes Never Die (2017) 2.5/5

2019-04-18 22:19

Okayish.

0.3

1945 (2017) 4/5

2019-04-14 22:22

Quite good. I really enjoyed how the hidden secrets were unveiled with each passing scene.

0.3

Ralph Breaks the Internet (2018) 3.5/5

2019-04-14 13:02

Quite good. Lots of funny scenes.

0.3

Vice (2018) 4.5/5

2019-04-13 22:49

Wow, what a fucker he was. And how much he damaged the world...

0.3

In den Gängen / In the Aisles (2018) 3/5

2019-04-12 22:31

Intriguing, albeit a tad dragging on.

0.3

Climax (2018) 4/5

2019-04-11 22:51

Huh. Loved the dancing. In the first half.

0.3

The Old Man & the Gun (2018) 3.5/5

2019-04-10 22:19

Watchable.

0.3

The Mule (2018) 3.5/5

2019-04-09 22:25

Good, but not great.

0.3

Transit (2018) 4.5/5

2019-04-08 23:06

Loved it. If you know (or look it up) that the movie takes place in 1942 everything will "click" and one can really enjoy this.

0.3

Quite entertaining, especially the first half.

0.3

The Favourite (2018) 4.5/5

2019-04-06 23:09

This was a little gem. Excellent play by the "favourite". Maybe just a tad disappointed by the ending.

0.3

November (2017) 3/5

2019-04-05 22:41

Decent, although very absurd.

0.3

Undir trénu / Under the Tree (2017) 4/5

2019-04-04 22:36

Absurdes totales. Enjoyed it quite a lot.

0.3

Can You Ever Forgive Me? (2018) 4.5/5

2019-04-03 22:59

Excellent! Had a great time and a lot of loud laughs watching it.

0.3

Wildlife (2018) 3.5/5

2019-04-02 22:51

Decent. Weird, but watchable.

0.3

Kodachrome (2017) 2.5/5

2019-04-01 22:27

Meh.

0.3

March, 2019

Oh what a joy. Loved every single bit of it.

0.3

Boy Erased (2018) 4.5/5

2019-03-30 22:23

Great movie! Had my doubts, but it was well worthwhile. US is in the dark ages allowing for conversion therapy. It's so tragic it's not even funny.

0.3

Shadow (2018) 4.5/5

2019-03-27 22:37

Tremendously enjoyed it. Loved the fantasy bits interconnected with reality.

0.3

Searching (2018) 3.5/5

2019-03-21 22:26

Decent. Props for the novel way of storytelling.

0.3

303 (2018) 4/5

2019-03-17 22:19

Decent. Maybe a tad bit too long.

0.3

Earth: One Amazing Day (2017) 4.5/5

2019-03-17 17:34

Great BBC docu. As always.

0.3

First Man (2018) 4.5/5

2019-03-14 22:56

Excellent drama! Felt like watching a Sci-Fi movie.

0.3

Thought provoking. Flawed with the too simplistic ending, but great watch nonetheless.

0.3

The House That Jack Built (2018) 2/5

2019-03-12 22:46

Very weird movie. Drags on for too long. Gets a little bit more interesting near the end, but falls short to be considered good.

0.3

Bohemian Rhapsody (2018) 4.5/5

2019-03-11 23:03

Great drama, incredible person, wonderful trip to the past.

0.3

Bad Times at the El Royale (2018) 3/5

2019-03-10 23:05

Odd and weird. Both in a good and bad way. Tries to be Wes Craven. Falls a little bit short. And drags for a little bit too long.

0.3

Surprisingly good. Caught me totally off guard.

0.3

Widows (2018) 4/5

2019-03-08 22:46

Very good watch. Has some plot flaws, but still very enjoyable.

0.3

Bird Box (2018) 3.5/5

2019-03-07 23:02

Watchable and quite enjoyable. Improbable too.

0.3

Journal 64 / The Purity of Vengeance (2018) 4/5

2019-03-06 22:58

Really like those two protagonists. Very decent.

0.3

Okeyish. Kinda stupid, but has some good moments.

0.3

The Sisters Brothers (2018) 3.5/5

2019-03-03 22:32

Watchable. Some laughable moments, some nostalgia, little gore.

0.3

Blindspotting (2018) 3.5/5

2019-03-02 22:07

Decent, quite decent.

0.3

February, 2019

Phantom Thread (2017) 3.5/5

2019-02-25 22:48

Slow, but interesting in a way.

0.3

Okeyish to watch with your kids.

0.3

Decent. Flawed, but definitely watchable.

0.3

Papillon (2017) 4/5

2019-02-11 22:43

Great story. Good watch.

0.3

Wszystkie nieprzespane noce / All These Sleepless Nights (2016) 2.5/5

2019-02-10 22:16

Okeyish. Kind of good, kind of boring, pointless.

0.3

Kongens nei / The King's choice (2016) 3/5

2019-02-05 22:34

Just OK. Too complicated politically for me.

0.3

Dogman (2018) 4/5

2019-02-04 22:30

Dark, brutal. Interesting.

0.3

Tower. A Bright Day. (2017) 2.5/5

2019-02-03 22:35

Weird. Very weird.

0.3

January, 2019

Rojst (TV Series, 2018) 4.5/5

2019-01-31 22:20

Great Polish mini-series. Keeps your attention up till the very end.

0.3

Black '47 (2018) 4.5/5

2019-01-12 22:30

Wow. Surprisingly great!

0.3

Den skyldige / The Guilty (2018) 3.5/5

2019-01-06 22:16

Decent drama. Slow, but powerful.

0.3

December, 2018

Decent. Good story, just not as much engaging as it could have been.

0.3

Solo: A Star Wars Story (2018) 4/5

2018-12-29 22:24

Decent. Very decent in fact. Not flawless, though.

0.3

Mission: Impossible - Fallout (2018) 4.5/5

2018-12-28 22:45

Very decent action flick. Especially the first half. In the second it borders the absurdity a little bit too much as for my taste.

0.3

Venom (2018) 3/5

2018-12-26 22:34

Kinda meh, but watchable.

0.3

El ciudadano ilustre / The Distinguished Citizen (2016) 4.5/5

2018-12-09 22:18

Brilliant. Tremendously enjoyed it.

0.3

Top of the Lake S02 (TV Series 2013– ) 2.5/5

2018-12-06 22:20

Bleh. Such a waste of time. Much much worse than the original first season.

0.3

November, 2018

Der Hauptmann / The Captain (2017) 4.5/5

2018-11-27 22:40

Brilliant!

0.3

Don't Worry, He Won't Get Far on Foot (2018) 4/5

2018-11-25 22:26

Great story!

0.3

Columbus (2017) 2/5

2018-11-22 22:30

Meh. Not really my cup of tea.

0.3

The Death of Stalin (2017) 4/5

2018-11-19 22:40

Well, this one was hilarious. Enjoyed it.

0.3

Tarde para la ira / The Fury of a Patient Man (2016) 4/5

2018-11-18 22:23

Rewarding. Very good.

0.3

Snow Angels (2007) 2.5/5

2018-11-17 18:07

Kind of OK, but flawed greatly with senseless scenes and dialogues.

0.3

Twarz (2018) 3.5/5

2018-11-11 22:15

Decent.

0.3

Mandy (2018) 3.5/5

2018-11-04 18:56

Just gore enough and Nicolas Cage enough. Must be good.

0.3

Zimna Wojna / Cold War (2018) 5/5

2018-11-03 22:37

Left me almost crying.

0.3

Surprisingly good. Did not expect that and was really close to just skipping it through.

0.3

October, 2018

Sorry to Bother You (2018) 3.5/5

2018-10-20 22:31

Intriguing. Very, very weird too.

0.3

Sharp Objects (TV Mini-Series 2018– ) 4.5/5

2018-10-18 21:49

Gulp. Scary stuff and mind-boggling too.

0.3

Lucky (2017) 3.5/5

2018-10-07 19:42

Watchable.

0.3

Sicario: Day of the Soldado (2018) 3.5/5

2018-10-07 18:02

Just okeyish. Watchable, but leaves a lot to be desired. Denis Villeneuve it ain't.

0.3

Leave No Trace (2018) 3.5/5

2018-10-06 22:20

Quite decent.

0.3

September, 2018

Adrift (2018) 3.5/5

2018-09-23 22:40

Decent melodrama.

0.3

Sing (2016) 3.5/5

2018-09-23 17:41

Okeyish.

0.3

Que Dios nos perdone / May God Save Us (2016) 4/5

2018-09-15 23:18

Very good Spanish crime/thriller. Enjoyed it.

0.3

A Quiet Passion (2016) 0.5/5

2018-09-15 21:08

I could not bare watching it. No.

0.3

Suntan (2016) 4/5

2018-09-14 23:00

Quite hard-core...

0.3

Stranger Things S01 (TV Series 2016– ) 3.5/5

2018-09-13 22:35

Meh. Kind of ok, but too childish and boring at times. And the season 2 teaser... 'nuf said.

0.3

Utøya 22. juli / Utøya - July 22 (2018) 3/5

2018-09-08 22:49

It's a very good retelling of what had happened in Utoya. It's very difficult to watch and even more so to rate it appropriately.

0.3

Isle of Dogs (2018) 4.5/5

2018-09-08 19:20

Wes Anderson wanted to make an anime and boy he made one. Loved it!

0.3

Geumul / The Net (2016) 3.5/5

2018-09-07 23:25

Decent. Not the great Kim Ki-duk he once was, but still a good watch.

0.3

Dziewczyna z szafy / The Girl from the Wardrobe (2012) 4/5

2018-09-06 22:19

A little gem.

0.3

Człowiek z Magicznym Pudełkiem / The Man with the Magic Box (2017) 4.5/5

2018-09-05 23:23

Awesome, independent Polish Sci-fi movie. First one (I think?) since the semi-Polish Oshii's Avalon (and Szulkin's works from back in the day). Congrats to the garage, self-taught director Bodo Kox for making it into the big league. You deserve it! Can't wait for what's coming next.

0.3

American Animals (2018) 3.5/5

2018-09-02 23:29

Decent. Really liked the real and feature footage mixed together.

0.3

Okeyish. It did ask one very important question, though. Why isn't the Catholic Church taking a stance on the Global Warming? It would help the whole world greatly if the Church advocated carbon emissions reduction.

0.3

August, 2018

Upgrade (2018) 4.5/5

2018-08-30 23:12

Surprising treat!

0.3

Pitbull. Ostatni pies / Pitbull: Last Dog (2018) 3/5

2018-08-23 23:25

Okeyoz, just not goodoz enough. and muchioz complicados.

0.3

Kobiety Mafii / Women of Mafia (2018) 1.5/5

2018-08-19 22:21

Meh.

0.3

Botoks (2017) 2/5

2018-08-16 23:28

No, just no. It has some funny moments, but mostly it's just cringe worthy.

0.3

Nelyubov / Loveless (2017) 4/5

2018-08-15 23:20

Ugh.

0.3

The Founder (2016) 4.5/5

2018-08-14 23:18

Surprisingly good. Capitalism at it's best and worst.

0.3

L'insulte / The Insult (2017) 4.5/5

2018-08-13 23:04

Very good, although a little bit too "sweet" in the end.

0.3

Silicon Valley S04 (TV Series, 2018) 4/5

2018-08-12 19:22

Decent. Very stupid, but also very funny at times.

0.3

Deadpool 2 (2018) 3.5/5

2018-08-11 23:22

Yeah, kind of OK. At least it makes fun of all the ridiculousness and stupidity.

0.3

Avengers: Infinity War (2018) 3.5/5

2018-08-07 23:41

Blah. Stupidly stupid. Not worth it. Worry not, they'll just "revert the time" next episode.

0.3

Westworld S02 (TV Series 2016– ) 4.5/5

2018-08-05 23:16

Uhm. What? First season was mind-blowing. This one is one big WTF. So many weird decisions throughout both by hosts and humans. Such ununderstandable motivations/drives. So weird, so weird. Good, but...

0.3

July, 2018

Decent continuation of the cult-classic.

0.3

Tully (2018) 4/5

2018-07-24 23:30

Wth in the first half, rewarding in the 2nd half.

0.3

Den of Thieves (2018) 3.5/5

2018-07-22 23:38

Decent shoot-out. Heat it ain't.

0.3

Molly's Game (2017) 4.5/5

2018-07-21 23:36

Great story!

0.3

The Killing of a Sacred Deer (2017) 4/5

2018-07-19 23:31

Hah. Great movie, but not for the faint of heart. And not for someone who's not delighted in absurdity. Real gem (Dogtooth was much better, though).

0.3

Surprising good, given how badly this is rated at imdb. Excellent knife fighting scene. Good suspense.

0.3

Okeyish. Kind of silly, too silly in fact, but that's what you get with this franchise.

0.3

The 12th Man / Den 12. mann (2017) 4.5/5

2018-07-10 23:32

Incredible story of survival and great struggle to stay alive.

0.3

All the Money in the World (2017) 4.5/5

2018-07-09 23:22

Great story. Riches to be feared of.

0.3

A Quiet Place (2018) 2.5/5

2018-07-08 23:07

Meh. Too stupid. And the newborn baby being quiet all the time, yeah right.

0.3

Coco (2017) 5/5

2018-07-07 19:49

Very surprised how good it was. So deep, if you understood, and so fun if you're just a young kid watching it with your parents.

0.3

Mænd & høns / Men & Chicken (2015) 3.5/5

2018-07-06 23:48

Absurdly stupid yet fun and engaging.

0.3

Really enjoyed it. Kind of slow, but very engaging. Niche movie, without much fanfare.

0.3

Pewnego razu w listopadzie / Once Upon a Time in November (2017) 4.5/5

2018-07-01 22:35

Decent, but first and foremost, frighting.

0.3

June, 2018

You Were Never Really Here (2017) 4/5

2018-06-26 23:07

Quite decent. Enjoyed the "hammer" violence and the psychedelic aspect to it.

0.3

The Post (2017) 5/5

2018-06-25 23:23

Brilliant recast of the early days when Washington Post was fighting Nixon.

0.3

Oh well, another ridiculously stupid Hollywood comedy.

0.3

Great homage to the classic and a completely new take on this story. Awesome movie, really enjoyed it.

0.3

Blade Runner (1982) 4.5/5

2018-06-22 23:51

Cult-classic. A little bit old, but still very good.

0.3

A Viszkis / The Whisky Robber (2017) 3.5/5

2018-06-17 23:36

Okeyish. A little bit boring and too long.

0.3

Teströl és lélekröl / On Body and Soul (2017) 4/5

2018-06-16 23:39

So quirky. Tiring at the beginning, rewarding towards the end.

0.3

The Lego Batman Movie (2017) 2.5/5

2018-06-16 18:43

Meh.

0.3

Najlepszy / Breaking the Limits (2017) 4.5/5

2018-06-15 23:01

Incredible story and a great movie.

0.3

Hostiles (2017) 3.5/5

2018-06-10 23:34

Decent, far from great. Melancholic, without the expected gore, blood and brutal terror.

0.3

Aus dem Nichts / In the Fade (2017) 4/5

2018-06-03 23:03

Decent story well told. Diane Kruger was awesome.

0.3

Silent Night (2017) 4.5/5

2018-06-02 23:37

Excellent drama. So very very much Polish. With great quote about being a "Polack" while being abroad and being a "Human" when in Poland.

0.3

Darkest Hour (2017) 4.5/5

2018-06-01 23:48

Great movie! Marvelous first half, followed by tuning it down by few notches. Still a great watch.

0.3

May, 2018

Black Panther (2018) 2.5/5

2018-05-31 23:52

Meh.

0.3

Been a long time since a movie had such a strong emotional response in me. I was actually terrified through the second half. Mind you, it was not by those strange animals...

0.3

Shot Caller (2017) 4.5/5

2018-05-19 23:09

Brutal, raw terror. Loved it.

0.3

American Honey (2016) 3.5/5

2018-05-06 23:32

Surprisingly good. Quite long, but enjoyable throughout.

0.3

Blue Planet II (TV Mini-Series 2017–2018) 5/5

2018-05-06 19:47

Incredible documentary. Highly recommended.

0.3

Tom à la ferme / Tom at the Farm (2013) 4/5

2018-05-03 23:24

Good Xavier Dolan is good Xavier Dolan.

0.3

Star Wars: Episode VIII - The Last Jedi (2017) 3.5/5

2018-05-02 23:39

Unfortunately, only half-decent. Just not the Star Wars I love.

0.3

Lady Bird (2017) 4.5/5

2018-05-01 23:05

Great! And also Sacramento.

0.3

April, 2018

I, Tonya (2017) 5/5

2018-04-29 23:18

Incredible story. Just wow.

0.3

Mother! (2017) 4/5

2018-04-23 23:33

Ah, Aronofsky. "Nothing is good enough".

0.3

Volta (2017) 3.5/5

2018-04-15 23:19

Watchable, enjoyable.

0.3

Thor: Ragnarok (2017) 4.5/5

2018-04-14 23:07

Wow, that was a surprising treat. Was about to put a cross-mark on all Marvel films, now I just might change my mind. Great humour, lots and lots of laughs. Great dialogues. Highly enjoyable

0.3

Happy End (2017) 4/5

2018-04-11 23:20

Decaying consumption driven western civilization. With a happy end. Ah, Haneke, Haneke. Love thee as much as hate thee.

0.3

The Disaster Artist (2017) 2.5/5

2018-04-08 23:24

Heh and meh. I don't know. The best part is the scene after the credits roll (plus 2 to the rating).

0.3

Call Me by Your Name (2017) 4/5

2018-04-07 23:16

Good. Maybe even bordering on great.

0.3

A martfüi rém / Strangled (2016) 4/5

2018-04-06 23:12

Decent crime/thriller based on facts.

0.3

Good Time (2017) 3.5/5

2018-04-05 23:12

Decent enough.

0.3

Una Mujer Fantástica / A Fantastic Woman (2017) 3.5/5

2018-04-04 23:08

Okeyish, bordering on decent.

0.3

Requiem for the American Dream (2015) 5/5

2018-04-03 23:05

Great documentary with political, social and economic views so close to my heart.

0.3

March, 2018

Meh. Kind of ok, but boring and... too fairy tale like.

0.3

Au revoir là-haut / See You Up There (2017) 4.5/5

2018-03-29 22:53

Great watch, awesome story.

0.3

Mindhunter S01 (TV Series 2017) 3.5/5

2018-03-13 23:11

Maybe... It's OK. But only just OK, given the hype it had. The 1st episode was great. The Ed Kemper episode was wonderful. The rest, kinda meh.

0.3

Borg McEnroe (2017) 4.5/5

2018-03-05 23:02

Very enjoyable.

0.3

Wonder (2017) 0.5/5

2018-03-02 23:19

Eh.

0.3

February, 2018

Loving Vincent (2017) 4.5/5

2018-02-26 23:28

Brilliant execution of 7 years of work. Great story, incredible paintings.

0.3

Three Billboards Outside Ebbing, Missouri (2017) 5/5

2018-02-25 22:34

Wow, just wow. Totally blew me away. Incredible performance by Frances McDormand. Great dialogs, exceptional story.l

0.3

The Florida Project (2017) 4/5

2018-02-19 22:40

Takes its time to get going, but provides rewarding experience.

0.3

Salyut-7 (2017) 4.5/5

2018-02-17 23:08

Surprisingly good!

0.3

Wow, this was incredibly good. Great story.

0.3

Atomic Blonde (2017) 2.5/5

2018-02-13 22:12

Meh. Kind of engaging, but mostly just stupid.

0.3

Brawl in Cell Block 99 (2017) 4/5

2018-02-11 23:13

Decent and very, very brutal.

0.3

The Glass Castle (2017) 4.5/5

2018-02-09 23:17

Great story well told.

0.3

It (2017) 3.5/5

2018-02-08 23:30

Decent remake of one of my all-time-favourites from my childhood. Kinda disappointed it has been split into two parts separated by 2 years.

0.3

Baby Driver (2017) 2.5/5

2018-02-07 23:49

Meh. Terribly stupid. Kinda enjoyable too.

0.3

Kincsem (2017) 4/5

2018-02-06 23:12

Great story! The production could be brought up by a few notches, though.

0.3

January, 2018

Rogue One: A Star Wars Story (2016) 4.5/5

2018-01-20 23:13

Very good Star-Wars prequel/spin-off. Just perhaps lacks the Jedi magic.

0.3

Eshtebak / Clash (2016) 2.5/5

2018-01-20 17:04

So-so. Very chaotic, without any coherent story whatsoever.

0.3

Logan Lucky (2017) 3.5/5

2018-01-19 23:28

Decent, just perhaps lacks the spark.

0.3

Thelma (2017) 4/5

2018-01-18 23:46

Decent, quite decent. Scary too, on a psychological level. European version of X-Woman.

0.3

Inequality for All (2013) 4.5/5

2018-01-15 23:09

Great doc about the inequality in the USA. Well told, although not too many new facts for me.

0.3

Toivon tuolla puolen / The Other Side of Hope (2017) 4/5

2018-01-09 23:47

Classic Kaurismäki indeed. Warm, with great hidden humour.

0.3

Mugen no jûnin / Blade of the Immortal (2017) 4/5

2018-01-08 23:31

Absurd, or even beyond the absurd yet still immensely entertaining. Great laughs, lots of gore. Typical Takashi Miike.

0.3

The Foreigner (2017) 4.5/5

2018-01-07 00:02

Very, very decent action/crime flick. Nice to see Jackie Chan in such role.

0.3

Brigsby Bear (2017) 4.5/5

2018-01-02 23:40

Great story, wonderful watch.

0.3

Valerian and the City of a Thousand Planets (2017) 3.5/5

2018-01-02 00:02

Incredible visuals. Great story. Bad acting. Terrible dialogues. Immature. Ah Luc Besson, why do you not age well.

0.3

December, 2017

Toni Erdmann (2016) 3.5/5

2017-12-31 00:26

Bizzare. Tiring to watch. Has some rewarding scenes.

0.3

American Made (2017) 4.5/5

2017-12-26 23:38

Decent, quite decent. Reminded me a little bit of Blow.

0.3

Dunkirk (2017) 4.5/5

2017-12-25 00:06

This one was extremely good. Did not make me fall on my knees, though.

0.3

Gwiazdy (2017) 5/5

2017-12-10 23:13

Why you have to be so sad? Why am I so sad...

0.3

Pitbull. Niebezpieczne kobiety / Pitbull: Tough Women (2016) 3.5/5

2017-12-10 00:08

Kind of OK. A little bit too chaotic perhaps.

0.3

November, 2017

Wow, that was one awesome movie. Great story, superb acting.

0.3

The Wizard of Lies (TV Movie 2017) 3.5/5

2017-11-18 23:28

Not that bad.

0.3

Wonder Woman (2017) 1.5/5

2017-11-17 23:02

Meh.

0.3

Top of the Lake S01 (TV Series, 2013-) 5/5

2017-11-09 23:21

Great mini-series. Incredible story, great delivery.

0.3

October, 2017

The Big Sick (2017) 4.5/5

2017-10-27 23:29

Great watch!

0.3

Westworld S01 (TV Series, 2016) 5/5

2017-10-14 23:04

It was a little bit too long and a little bit boring at times, but oh boy was it worth it! The ending is spectacular. I also loved the Michaelangelo's "God created Adam" painting interpretation.

0.3

Born in China (2016) 4.5/5

2017-10-08 18:31

Excellent documentary, even though it was quite sad.

0.3

A Ghost Story (2017) 0.5/5

2017-10-06 22:00

Uhm, no.

0.3

Wow, what a feast for the eyes and mind! Loved every single bit of it.

0.3

Going in Style (2017) 2.5/5

2017-10-02 23:52

Kind of ok. Kind of boring and predictable too.

0.3

Amok (2017) 4/5

2017-10-01 23:49

Polish thriller based on facts. Decent watch.

0.3

September, 2017

13 Reasons Why (TV Series 2017– ) 4/5

2017-09-24 23:12

Decent, very decent.

0.3

Big Little Lies S01 (TV Mini-Series, 2017) 5/5

2017-09-11 23:16

Wow, that was a great experience. Highly recommended!

0.3

Game of Thrones S07 (TV Series, 2017) 4.5/5

2017-09-07 00:25

Ah, good old Game of Thrones. It was great. It really was. Apart from a lot of weak sub-plots and over-the-top dialogues. Felt like Martin was rushed to come up with a plot, which would move things forward in a very fast manner, without much thinking about the logic behind it all. Still an awesome watch.

0.3

Till We Meet Again (2016) 3.5/5

2017-09-02 23:50

Decent watch. A little bit slow at start, but worthwhile in the end.

0.3

August, 2017

Forushande / The Salesman (2016) 3.5/5

2017-08-24 23:58

Decent. Not as good as I expected it to be.

0.3

Quite decent. Quiet, suburban story about growing up. And some other things too.

0.3

Decent watch. It strays a lot from the original anime (which I am a huge fan of; watched it probably 6 or 7 times back in the day), but it can stand on its own. It looses the psychological bits, simplifies the story a lot, but makes it up in visuals. The new story can stand on its own too.

0.3

Brimstone (2016) 4.5/5

2017-08-17 23:42

Oh wow. Kind of like "No Country for Old Men". Only Dutch. Partially, at least. Brutal, gritty, horrifying. Excellent watch.

0.3

Guardians of the Galaxy Vol. 2 (2017) 2/5

2017-08-15 23:47

Ugh, what a waste of time. Just terrible and utterly stupid. And no fun at all.

0.3

Silence (2016) 3/5

2017-08-14 23:28

Kind of ok, kind of meh. Drags on for way too long.

0.3

The Light Between Oceans (2016) 5/5

2017-08-12 23:29

Wow, what a story. Awesome movie.

0.3

Logan (2017) 4.5/5

2017-08-11 23:13

That felt different. Much different from the other X-Men movies. I would give it 10 if there were more drama and good dialogues instead of constant chase and fights.

0.3

Great story, flawed movie (too many meh moments).

0.3

Cosmos: A Spacetime Odyssey (TV Mini-Series 2014) 5/5

2017-08-06 19:14

Great series. Highly recommended!

0.3

The Lost City of Z (2016) 3.5/5

2017-08-03 23:31

Quite decent. Not great, maybe lacks some imagination, too little engaging.

0.3

Vallanzasca - Gli angeli del male / Angel of Evil (2010) 3.5/5

2017-08-02 00:10

Decent, but somewhat lacking the intensity. Bordering and crossing the line of absurdity too.

0.3

Frantz (2016) 4.5/5

2017-08-01 00:10

Damn you, Ozon, for making such great movies without "the right" conclusion. Ah, loved it and hated it at the same time.

0.3

July, 2017

King Arthur: Legend of the Sword (2017) 4.5/5

2017-07-30 23:49

Great flick. Love Guy Ritchie. Always did.

0.3

Patriots Day (2016) 3.5/5

2017-07-29 00:33

Decent account of the Boston's bombing.

0.3

John Wick: Chapter 2 (2017) 2/5

2017-07-26 23:36

Whoever comes. I'll kill them all. Eh. Liked Matrix references. Liked some of the funny dialogues and scenes. But pretty much cringed the rest. Bleh.

0.3

The Zookeeper's Wife (2017) 4/5

2017-07-24 00:04

Great story and a very decent movie. A tiny bit too many cringe worthy scenes and dialogues, but the rest remained top-notch.

0.3

Jestem mordercą (2016) 4.5/5

2017-07-14 00:04

Surprisingly good! Great story too.

0.3

Ugh. Ugh. Ugh. Difficult to watch. Very difficult. Must see, though.

0.3

Contratiempo / The Invisible Guest (2016) 4/5

2017-07-09 23:41

Decent. Even very decent. However, way too complicated. And way too improbable.

0.3

Doctor Strange (2016) 3.5/5

2017-07-08 23:37

Kind of meh, kind of watchable.

0.3

Paterson (2016) 3/5

2017-07-06 23:32

Paterson. It's a state of mind. It's a New Jersey state. It's a William Carol Williams state. Has its moments.

0.3

Adam (2009) 2.5/5

2017-07-04 23:41

Meh. Too simplistic, too chaotic, too cliche, too cringe worthy.

0.3

The Art of Loving. Story of Michalina Wislocka (2017) 4.5/5

2017-07-03 23:33

Great story, great woman, great book (I've read it as a teenager back in the day). Ultimately sad movie, unfortunately, but that's life.

0.3

Bacalaureat / Graduation (2016) 4.5/5

2017-07-02 23:49

What a great treat! Awesome presentation of the post-soviet mindset, with abundant corruption and morality being brought into questioning.

0.3

June, 2017

La La Land (2016) 4.5/5

2017-06-30 23:11

Very decent indeed. Caught me by surprise, to be honest. I cringed the first 30 minutes (why do they have to sing so damn much?), yawn with boredom in the next 30 and got really hooked in the second half. And the ending did it for me... oh boy.

0.3

Koto no ha no niwa / The Garden of Words (2013) 2.5/5

2017-06-28 22:53

Meh.

0.3

Le tableau / The Painting (2011) 4/5

2017-06-27 23:57

Very good! Funny, thought provoking.

0.3

Ksiadz (2017) 5/5

2017-06-26 23:22

Hah. Brilliant!

0.3

Mindenki / Sing (2016) 4.5/5

2017-06-26 23:03

Great short. Mandatory for all teachers.

0.3

Lion (2016) 5/5

2017-06-23 23:55

Wow... Incredible story. Deeply moving picture.

0.3

Durak / The Fool (2014) 4.5/5

2017-06-18 23:59

Ugh. Too good. And too true. And too depressing.

0.3

Ostatnia rodzina / The Last Family (2016) 5/5

2017-06-17 00:32

Wow. This. Was. Incredible. Extraordinary family and a Polish movie, that is too Polish.

0.3

Life (2017) 3.5/5

2017-06-16 00:24

Half-decent. As is usually the case with all half-decent Hollywood horror movies, the characters had to make all the stupid decisions. I'll give it some credit for being Sci-Fi, though.

0.3

Miss Peregrine's Home for Peculiar Children (2016) 5/5

2017-06-14 23:58

Wow, this one has caught me by surprise. I prolonged watching it for so long, oh how wrong was I. This film is brilliant. And the humour, just wow. Even shed a tear or two while watching the ending...

0.3

Decent docu about Compaq's history. Did not realize they were such hot shots back in the day.

0.3

Garden State (2004) 4.5/5

2017-06-09 23:20

Definitely a great movie. Didn't make such a great impact on me when I had watched it some odd 12 years ago, though.

0.3

Get Out (2017) 5/5

2017-06-04 23:40

Brilliant. This one was simply brilliant. I had such great laughs, just wow. And it builds up so slowly, but with every scene something else just doesn't feel right. Ah, what a treat!

0.3

Split (2016) 4.5/5

2017-06-03 22:37

Wow, this one was surprisingly good. Kept me tense throughout. And the blink of an eye in the end towards an Unbreakable universe was quite cool too.

0.3

Konwój (2017) 4.5/5

2017-06-02 23:36

Wow, this was exceptionally good as far as Polish action movies go.

0.3

May, 2017

24 Wochen / 24 Weeks (2016) 4/5

2017-05-30 23:31

One hell of a difficult movie. Great watch, but very tiring.

0.3

Powidoki / Afterimage (2016) 5/5

2017-05-27 23:33

Wow... I'm speechless. Incredible movie about an exceptional Polish artist almost directly killed by The Communism.

0.3

The Jungle Book (2016) 4.5/5

2017-05-15 23:23

Wow, what a surprising treat! Excellent CGI (haven't seen CGI that good in a while) and a great story well told bring out a great mix that is a very pleasing experience.

0.3

Juste la fin du monde / It's Only the End of the World (2016) 3.5/5

2017-05-14 23:42

Decent, although it left me kind of disappointed, expecting much more after seeing most of the previous Xavier Dolan's works (and being amazed by it).

0.3

Fences (2016) 2.5/5

2017-05-13 22:47

Very so-so. Too much theatrical, too much dialogue, too many irritating scenes, too little action.

0.3

Great doc. Snowden is a hero of our times. The true whistleblower. And also an account of the dark times we live in, where basic freedoms are being taken away from us. And heroes are prosecuted. No privacy == no personal freedom == no freedom of speech == no civil liberties == the worst dream out of 1984 .

0.3

Zjednoczone stany miłości / United States of Love (2016) 2.5/5

2017-05-11 23:30

Meh. Yet another Polish movie where almost every character is nervous, chaotic and depressed. The movie has its moments, but it did not appeal to me.

0.3

Wow, this was exceptionally good. Excellent watch that keeps you on your toes from the very first minute till the end.

0.3

The Girl with All the Gifts (2016) 3.5/5

2017-05-04 22:54

Decent. It's not "I am legend", which touches a very similar subject, but it's watchable.

0.3

A Street Cat Named Bob (2016) 3.5/5

2017-05-02 22:50

Decent, quite decent.

0.3

Nocturnal Animals (2016) 4.5/5

2017-05-01 23:29

Wow, that one caught me unguarded. I was expecting a cheesy story about a writer and a crime. I was in for a very big surprise.

0.3

April, 2017

Allied (2016) 4/5

2017-04-29 23:00

Decent. Not great, but keeps you tense throughout.

0.3

I, Daniel Blake (2016) 4.5/5

2017-04-27 23:30

Excellent. Just as most of Ken Loach's works. Brilliantly portraying the working class. The struggle. The rejection. The unfairness. The bureaucracy.

0.3

Wow, just wow. This is the best war movie of 2016. Undoubtedly.

0.3

Manchester by the Sea (2016) 5/5

2017-04-23 23:39

Wow... what an incredible story. Heart-wrenching.

0.3

Prosta historia o morderstwie (2016) 4/5

2017-04-21 23:00

Very, very good. If it wasn't flawed (main character had too weird "breaking" scenes), I would give it a 10.

0.3

Tschick / Goodbye Berlin (2016) 5/5

2017-04-17 23:05

Fatih Akin at his best. Awesome movie! Had great fun watching it.

0.3

Planet Earth II (TV Mini-Series 2016– ) 5/5

2017-04-10 19:20

Wow. This is even better than the first part. Simply amazing.

0.3

Moonlight (2016) 5/5

2017-04-08 22:58

Ugh. And wow. Almost speechless. So emotional.

0.3

March, 2017

Storks (2016) 3/5

2017-03-15 22:19

Kind of OK. Couple of funny moments but quite a predictable story.

0.3

Collateral Beauty (2016) 3.5/5

2017-03-13 23:06

Really well said story. Maybe a little bit over the top, but good nonetheless.

0.3

Jackie (2016) 0.5/5

2017-03-12 21:32

Uhm, I could not bare to watch it.

0.3

Passengers (2016) 4.5/5

2017-03-10 22:54

Good. Maybe even great. To a degree. It is somewhat ruined by Hollywood and made way way too dramatic and implausible. It's still an excellent watch.

0.3

Hymyilevä mies / The Happiest Day in the Life of Olli Mäki (2016) 4/5

2017-03-05 23:06

Great story.

0.3

The Edge of Seventeen (2016) 4/5

2017-03-04 23:46

Decent, fairly decent. Funny too. But it's more of a drama than a comedy.

0.3

February, 2017

Busanhaeng / Train to Busan (2016) 2.5/5

2017-02-27 23:57

Koreans can't make Zombie movies. Sorry. Way over the top. Way too many cringe worthy characters, dialogs and scenes. It's watchable, but cannot compare with any US-made zombie flick.

0.3

Arrival (2016) 5/5

2017-02-26 23:02

OMFG. One of the best Sci-fi movies ever. Denis Villeneuve is now my favourite director of all times. And I have just realized that I had watch almost all of his full-length movies. Starting from Maelstrom, a movie I watched some odd 15 years ago and still remember it and the impact it had on me. I would give Arrival 11 if I only could.

0.3

Moana (2016) 4.5/5

2017-02-26 13:07

Really great! Definitely something to watch with your kids.

0.3

Zero Days (2016) 4.5/5

2017-02-23 00:19

Cyber Warfare, the fourth dimension of war. Yes, we really should talk about it. Great doc, a real eye opener in a lot of political implications I wasn't aware of.

0.3

Planet Earth (TV Mini-Series 2006) 4.5/5

2017-02-22 19:15

Great documentary about our small planet.

0.3

Banksy Does New York (2014) 4/5

2017-02-19 23:56

Banksy for president!

0.3

Rudý kapitán / The Red Captain (2016) 3.5/5

2017-02-18 23:41

Good crime/thriller movie. Flawed only for being too complicated and too little understood (by me).

0.3

Snowden (2016) 4/5

2017-02-13 00:03

Quite decent. Perhaps a little bit too much emphasis on the relationship side and too little on things revealed by Snowden.

0.3

Quite decent, I'd say.

0.3

January, 2017

The Girl on the Train (2016) 4/5

2017-01-27 23:45

Very decent thriller. Keeps you puzzled throughout the end.

0.3

OMG. Extremely intense and very brutal. It's been a while since I cried while watching a movie.

0.3

Absurditum totalum. Enjoyable if your into weird stuff.

0.3

Oh what a treat! Amazing personality, awesome movie. Not perfect, well, it almost it, but had some, just slight slowdowns and unnecessary scenes and dialogs down the way. Just a tiny bit, so I didn't bother much and enjoyed it as such. WOW!

0.3

December, 2016

Kamper (2016) 3.5/5

2016-12-30 00:20

Decent. Thought provoking.

0.3

Decent, not great. A little bit too chaotic and incoherent for my taste.

0.3

La tortue rouge / The Red Turtle (2016) 4.5/5

2016-12-20 00:34

Very beautiful story about a man's journey through life. Somewhat magical, somewhat tragic. Very poignant.

0.3

Child's Pose / Pozitia copilului (2013) 4/5

2016-12-17 23:56

Difficult subject, rewarding movie. Ends quite abruptly, yet brings some conclusions.

0.3

Jak całkowicie zniknąć / How to Disappear Completely (2014) 3/5

2016-12-15 23:42

Intriguing. More of a music-video instead of a drama.

0.3

Magnus (2016) 4/5

2016-12-14 00:14

Pretty mediocre docu about an extremely extraordinary person, Magnus Carlsen. It's still a great experience to watch the grandmaster himself.

0.3

The Magnificent Seven (2016) 3/5

2016-12-13 00:06

Just okeyish. Watchable, but nothing more than that.

0.3

The Huntsman: Winter's War (2016) 3.5/5

2016-12-11 23:38

Good. First part was much much better, but this was quite enjoyable too.

0.3

Blue Jay (2016) 4/5

2016-12-08 23:22

What could have been / what would have been... Decent watch.

0.3

Sully (2016) 5/5

2016-12-06 23:23

Wow. Incredible story (I remember reading about it back in the day) and an intense drama. Great watch.

0.3

Julieta (2016) 3.5/5

2016-12-03 23:41

Women. Don't even try to understand them.

0.3

November, 2016

Lo chiamavano Jeeg Robot / They Call Me Jeeg Robot (2015) 5/5

2016-11-27 23:50

Wow, this one was simply awesome! A superhero from the slums. Almost homeless, kind-of half-brained gangster. Lots of great laughs.

0.3

Don't Breathe (2016) 3.5/5

2016-11-27 00:12

Decent, although the amount of "turning points" in the story was a little bit too high for my tastes. It's a very enjoyable watch, though.

0.3

Watchable and even enjoyable, at least to a degree.

0.3

All the Way (TV Movie 2016) 4/5

2016-11-25 00:42

An intimate look into Lyndon Johnson's US presidency and the man himself, someone very hungry for power, but also with the right political agenda, both about civil rights and more social privileges. Great watch.

0.3

View from a Blue Moon (2015) 2.5/5

2016-11-22 01:04

More like a series of music-videos, instead of a proper documentary. Maybe a 100 words is being said throughout the whole movie. I did not get to know John Florence. I only saw him surf.

0.3

Ah-ga-ssi / The Handmaiden (2016) 4/5

2016-11-20 23:36

Chan-wook Park wants to be David Mamet. He mostly succeeds too. Good movie, which keeps you on its toes, with lots of visual beauty. Not a masterpiece, though, as his older works.

0.3

Been there, done that. It gets more and more ridiculous with each new iteration. Mind you, it's still quite enjoyable. Just a little bit too silly.

0.3

Stille hjerte / Silent Heart (2014) 3.5/5

2016-11-18 01:13

Decent drama. Makes you think.

0.3

Anthropoid (2016) 3.5/5

2016-11-17 01:02

Decent, quite decent.

0.3

Very good war/courtroom drama. Asks very hard moral questions and gives zero answers.

0.3

Kind of OK, but overall just meh. Repetitive, not that funny and drags on for too long, even though it clocks at just 90-something minutes.

0.3

Hell or High Water (2016) 4.5/5

2016-11-12 23:25

Wow, what a ride! This one was so good! Intelligent, humorous but also raw and brutal. Exactly how I like them.

0.3

The Secret Life of Pets (2016) 3.5/5

2016-11-12 19:36

I'd say it's half-decent. Enjoyable, few funny moments, not that dull overall. It's not great either, note that too.

0.3

War Dogs (2016) 4.5/5

2016-11-10 22:57

Wow, this one was a great gem. And way more serious than the cast would make you think. And a true story at that.

0.3

Still Life (2013) 3.5/5

2016-11-09 23:34

Decent, might be even bordering on "very good". Quiet drama, which makes you think about life and what is important.

0.3

October, 2016

The Meddler (2015) 3.5/5

2016-10-30 23:00

Charming little story. Very much Hollywood like, with clichés all around and simple plot, but very warm and pleasant to watch.

0.3

Planeta singli (2016) 3.5/5

2016-10-29 23:52

Has its charms. The ending in particular is quite entertaining. It has its drawbacks too, like a one too many cringe worthy scenes. Best to watch it with your significant other. Careful, she might shed a tear or two, while your burst into laughter.

0.3

Star Trek Beyond (2016) 1.5/5

2016-10-28 23:47

What a piece of rubbish nonsense. Literally everything is just plainly stupid. Ugh. Enjoyable, but only if you turn off most of your brain.

0.3

Café Society (2016) 3.5/5

2016-10-27 22:53

Another Woody Allen. What can I say, other than the fact that I liked it. Just like any other Woody Allen's movie. This one's not an exceptionally good one, but it's still worth your while.

0.3

El Clan / The Clan (2015) 3.5/5

2016-10-27 00:46

Very tragic story. How sick can you be to involve your whole family in such heinous crimes.

0.3

Captain Fantastic (2016) 4.5/5

2016-10-25 23:56

Wow, what a treat! Very beautiful and touching story. Highly recommended.

0.3

Na granicy / The High Frontier (2016) 4/5

2016-10-24 23:08

Very good Polish thriller. In the woods. In winter time. Battle for survival.

0.3

Goksung / The Wailing (2016) 2.5/5

2016-10-24 00:50

I'm not sure what to think of it. First of all, it was way too long. And second, way too confusing. I've read imdb forums, even watched some "explanatory video" only to discover that it doesn't make any sense whatsoever. Weird, ambiguous movie.

0.3

The Angry Birds Movie (2016) 3/5

2016-10-22 18:41

Good to watch with your kids, but it's quite mediocre. There some nice in-jokes here and there with an eye blink to adults, but nothing spectacular.

0.3

Intriguing and really really absurd. And weird too. Enjoyable, though.

0.3

Sado / The Throne (2015) 3.5/5

2016-10-17 23:18

Decent, but the level of absurdity of those times and the "rules" around the king is beyond me.

0.3

Boi Neon / Neon Bull (2015) 3/5

2016-10-14 23:44

Hmm. Not sure what to say about this one. It's definitely an art movie, with not that much going on. There is a story, mind you, but it's not going anywhere. It's just some days from the lives of men taking care of bulls.

0.3

Hunt for the Wilderpeople (2016) 4/5

2016-10-13 23:42

Charming little story. A little bit absurd, but has so much warmth to it that you can forgive it.

0.3

Dheepan (2015) 4.5/5

2016-10-13 00:18

Very good! Although the ending is left open for interpretation (is it real or is it just a dream?).

0.3

Les Cowboys (2015) 3.5/5

2016-10-11 23:59

Strange, almost psychedelic story. Or rather a journey as this is a sort of a road movie.

0.3

Decent, very decent in fact, but only if you forget for the moment that the whole "War on drugs" is complete nonsense and waste of everyone's time and lives.

0.3

Captain America: Civil War (2016) 2.5/5

2016-10-10 00:03

Ugh. It's probably the 10th or so "superheroes" movie that I had watched since saying "I won't watch any other superhero movie from now on". I skip some of the really crappy ones (Spider-Man, Transformers, blah blah not a superhero movie, but hey okey), but I don't skip those advertised as being good. This one good is not. Oh no. It's pretty terrible and senseless all the way through. It's saved by two awesome punchlines ("- I'm Steve. -I don't care" and "Manchurian Candidate"), but only partially. It's still a really, really bad movie. Enjoyable, but bad bad bad.

0.3

X-Men: Apocalypse (2016) 3.5/5

2016-10-09 00:06

OK and not much more. The X-Men universe got really screwed up last time (Days of Future Past) and with each movie the level of absurdity goes only one way, which is up. It's still a decent watch, though.

0.3

Les innocentes / The Innocents (2016) 4.5/5

2016-10-07 23:30

Very good movie, even though it's not an easy watch.

0.3

Blood Father (2016) 2.5/5

2016-10-04 23:12

Meh. Too simplistic/too stupid. Watchable, but probably not worth your while.

0.3

September, 2016

Warcraft: The Beginning (2016) 4/5

2016-09-21 23:37

Decent, even very good. The only gripe I have about it is that it's way too simplistic. The turning of Orcs to the other side happens over 30 seconds of dialogue... Like, come on!

0.3

Letnie przesilenie / Summer Solstice (2015) 3.5/5

2016-09-20 23:35

Tragic and very sad story. A decent movie too.

0.3

Wow, this was so surprisingly good. Excellent even. You just have to treat it as a kind of fairy tale. A make believe.

0.3

Ip Man 3 (2015) 3/5

2016-09-17 23:45

Yeah, ok... Placing Mike Tyson in here and actually making him fight Ip Man was ridiculous. Interesting, but really, ridiculous. The overall story is very so-so as well.

0.3

Where to Invade Next (2015) 5/5

2016-09-17 00:15

Wow, what an excellent documentary. Shows how really great Europe is and how USA is not.

0.3

Free State of Jones (2016) 4.5/5

2016-09-15 23:57

Great story well worth to be told.

0.3

J'ai tué ma mère / I Killed My Mother (2009) 3.5/5

2016-09-15 00:23

A directional debut from Xavier Dolan. I think this movie has really jump-started his career. In 2016 it's not that great, but it's an interesting movie nonetheless.

0.3

Confirmation (TV Movie 2016) 4.5/5

2016-09-14 00:04

A very important story worth telling. Women's rights all over the world are still not quite up to the standards, yet.

0.3

Mr. Six (2015) 3/5

2016-09-12 23:45

Just OK. The whole thing is a little bit absurd and taken to an extreme, but the overall story still stands on its own.

0.3

Love & Friendship (2016) 3.5/5

2016-09-03 23:46

Decent and funny enough to keep me entertained while in the company of my significant other.

0.3

Umimachi Diary / Our Little Sister (2015) 1.5/5

2016-09-02 23:13

Meh. And bleh. Too girlish, too boring, too dragging on. The only interesting part is about the married man. And it's show in maybe 5 minutes of the whole thing.

0.3

Truth (2015) 3.5/5

2016-09-01 23:48

Intriguing. Ultimately I think this one was too one sided. And, most likely, the documents were forged. And the story was hasted without being verified properly.

0.3

The Club (2015) 4.5/5

2016-09-01 00:04

Ugh. This was a very hard core film. Especially that there is a lot of truth to it.

0.3

August, 2016

The Witch (2015) 3/5

2016-08-30 23:38

Intriguing and also very strange. Not your typical horror movie.

0.3

Flaskepost fra P / A Conspiracy of Faith (2016) 4.5/5

2016-08-29 23:54

Very good. They say it's the least best out of the three and it's probably true. Still, it's an excellent watch.

0.3

A Hologram for the King (2016) 4/5

2016-08-28 23:57

Not that bad as imdb rating would make you think. I did really enjoy it. You just have to treat it with one eye closed, thinking it's some kind of fairy-tale.

0.3

Difficult subject, difficult movie. Doesn't give straight answers.

0.3

Star Wars: Episode VII - The Force Awakens (2015) 4/5

2016-08-26 23:57

Decent. In fact, very decent. However, it's too much of the same old. Third deathstar, similar scenes, similar dialogues, similar duels, etc, etc. Just too much of the same stuff. More originality please.

0.3

Great story. Makes you think about growing old.

0.3

Decent action flick. Way over the top with the central intelligence officer running the whole show. And way too many body counts.

0.3

The Nice Guys (2016) 4.5/5

2016-08-24 00:44

Wow, this one was surprisingly good. Great humour, excellent dialogues, decent story and great actors. What more one would want?

0.3

Great and inspiring story.

0.3

Weird. Felt like a game more than a movie. Enjoyable, but too much action and too little story.

0.3

Star Wars: Episode VI - Return of the Jedi (1983) 4.5/5

2016-08-11 00:07

Decent. Not super-amazing (especially if you watch it coming right after parts 1-3, using the recommended order 4,5,1,2,3,6,7), but still good.

0.3

Star Wars: Episode III - Revenge of the Sith (2005) 5/5

2016-08-10 00:03

Very dark, very powerful. I think I had seen this episode only once as I did not remember most of the things. Surprisingly (or not, depends on whom you ask) this one is the best of the "new three".

0.3

Star Wars: Episode II - Attack of the Clones (2002) 4/5

2016-08-09 00:21

Too many cringe-worthy moments and too complex political background. Still good, but not as good as it could be. I consider this one to be the weakest in the whole series (1-6).

0.3

Star Wars: Episode I - The Phantom Menace (1999) 5/5

2016-08-07 23:11

Considered the worst out of all 6 episodes, I found it to be extremely good (3rd time I watched this, I believe, after all the years). Very captivating.

0.3

Under sandet / Land of Mine (2015) 4.5/5

2016-08-05 23:17

Wow, that was surprisingly captivating. Yes, it was a war crime. A terrible one at that.

0.3

Star Wars: Episode V - The Empire Strikes Back (1980) 5/5

2016-08-03 22:55

Still strong. Kinda oldie, but still goodie.

0.3

Star Wars: Episode IV - A New Hope (1977) 5/5

2016-08-03 00:03

Probably third or fourth time I had seen it by now. Sure, it's been almost 40 years now, but this one never gets old.

0.3

El abrazo de la serpiente / Embrace of the Serpent (2015) 4/5

2016-08-02 00:02

Decent, very decent.

0.3

July, 2016

Brooklyn (2015) 4.5/5

2016-07-31 23:47

Wow, this one was surprisingly engaging. Very good too!

0.3

Faults (2014) 3.5/5

2016-07-29 23:47

Decent, quite decent.

0.3

Silicon Valley S03 (TV Series, 2016) 5/5

2016-07-29 22:03

This one just gets better and better with each season. S03 was just hilarious!

0.3

Silicon Valley S02 (TV Series, 2015) 4.5/5

2016-07-24 23:33

Wow, the 2nd season is undeniably better than the first! This was a great watch!

0.3

Silicon Valley S01 (TV Series, 2014) 4/5

2016-07-23 18:35

Quite good. Not that great I expected it to be, but decent enough.

0.3

Wow, what an intense journey! Reminder me a lot about about Fight Club and a little bit about Reign Over Me. Awesome, just awesome.

0.3

Belgica (2016) 3.5/5

2016-07-17 23:43

Not that bad, actually. Perhaps the mix is too heavy on the partying and too little on the actual story.

0.3

Pitbull. Nowe porządki / Pitbull. New orders (2016) 3/5

2016-07-14 00:01

Stupid and quite bad with ridiculous dialogues, yet fun at the same time. Half good, half bad, I'd say.

0.3

Everybody Wants Some!! (2016) 2/5

2016-07-12 23:53

Kind of meh. Even though it's Linklater.

0.3

Green Room (2015) 4.5/5

2016-07-06 23:50

Oh the glory, this one was simply awesome! Gory, raw, brutal, lots of blood, lots of dead bodies. Great feast!

0.3

Perfetti sconosciuti / Perfect Strangers (2016) 4/5

2016-07-05 23:59

Very good! Quite a few excellent moments.

0.3

Eye in the Sky (2015) 4.5/5

2016-07-02 23:20

Decent, very decent. Collateral damage is an essential part of war. Civilians are the ones who die in numbers.

0.3

June, 2016

Game of Thrones S06 (TV Series, 2016) 5/5

2016-06-30 01:05

Wow, just wow. It felt like there was so much more happening in the last two episodes of this season than in the three previous seasons combined. Awesome series.

0.3

Miekkailija / The Fencer (2015) 4.5/5

2016-06-20 23:57

Inspiring story.

0.3

Wszystkie kobiety Mateusza (2013) 0.5/5

2016-06-19 23:19

Meh.

0.3

Eat Pray Love (2010) 1.5/5

2016-06-17 23:57

Ugh. Blurgh. Bleh. Missus' choices...

0.3

Czerwony Pająk / The Red Spider (2015) 1.5/5

2016-06-16 23:55

Psycho blah-blah-blah. Not worth bothering with.

0.3

13 Hours: The Secret Soldiers of Benghazi (2016) 5/5

2016-06-16 00:05

Wow, what an incredible movie with an almost unbelievable story! Awesome, just awesome!

0.3

Panie Dulskie (2015) 2.5/5

2016-06-15 00:17

Meh.

0.3

Agnieszka (2014) 3.5/5

2016-06-11 23:45

Decent. Quite decent.

0.3

Colonia / The Colony (2015) 4.5/5

2016-06-10 23:42

Wow, this was very powerful.

0.3

In the Heart of the Sea (2015) 3.5/5

2016-06-08 00:11

Well told story, which is mostly believed to be true.

0.3

Córki dancingu / The Lure (2015) 3/5

2016-06-07 00:03

Kind of weird, kind of decent too. Has its charms, but falls for dialogs and weird plot.

0.3

10 Cloverfield Lane (2016) 5/5

2016-06-05 23:29

Wow, what a surprising treat! So intense, so claustrophobic, so rewarding!

0.3

Zootopia (2016) 4.5/5

2016-06-03 23:53

Decent, very decent in fact.

0.3

Anomalisa (2015) 4/5

2016-06-02 00:27

Interesting, intriguing. Imdb forums help greatly, as usual.

0.3

May, 2016

Cosmos (2015) 2/5

2016-05-29 23:31

Meh. Gombrowicz is definitely not for me.

0.3

Hail, Caesar! (2016) 2.5/5

2016-05-28 23:38

Kind of OK, but also kind of boring and pointless.

0.3

Moje córki krowy / These Daughters of Mine (2015) 2.5/5

2016-05-27 23:55

Meh. Poor dialogs and characters, but a somewhat ok story.

0.3

Drishyam (2015) 3/5

2016-05-22 23:49

Watchable, although I do have a lot of gripes about how women, police officers and general society has been portrayed in this movie.

0.3

The Hateful Eight (2015) 4.5/5

2016-05-22 00:29

Ah, my beloved Quentin Tarantino. This one does not dissapoint. It's not a 10, but it's still a very entertaining watch.

0.3

Hross í oss / Of Horses and Men (2013) 3.5/5

2016-05-21 00:08

Funny to watch, but hard to grasp all the reasons behind certain decisions.

0.3

Port of Call (2015) 3.5/5

2016-05-19 23:47

Decent, although quite hard core.

0.3

Mustang (2015) 4/5

2016-05-17 23:34

Very good watch.

0.3

En man som heter Ove / A Man Called Ove (2015) 4/5

2016-05-16 00:06

Very good story. Touching.

0.3

Deadpool (2016) 4/5

2016-05-05 23:18

Surprisingly decent. Some great laughs here and there and a coherent story. Good movie make.

0.3

Joy (2015) 2.5/5

2016-05-03 23:33

Meh. Too simplistic. Felt like a movie for teenagers.

0.3

April, 2016

Black (2015) 3.5/5

2016-04-27 23:42

Decent. Kind of like Romeo & Juliet.

0.3

Son of Saul / Saul fia (2015) 3.5/5

2016-04-26 23:58

The conglomerate of death as witnessed by one from the Sonderkommando imaging a dead boy to be his son.

0.3

A Perfect Day (2015) 4.5/5

2016-04-25 23:38

Great humour mixed with a tragic story. Excellent watch.

0.3

Decent. Sheep all over the place.

0.3

Wow... Even though it seemed almost impossible to survive.

0.3

Mandela: Long Walk to Freedom (2013) 4/5

2016-04-19 23:55

Very good movie about an exceptional figure in the history of not only South Africa, but the whole world.

0.3

Fúsi / Virgin Mountain (2015) 4.5/5

2016-04-18 23:40

What a surprising treat!

0.3

Carol (2015) 2/5

2016-04-17 23:57

Meh. Little to no action. So boring...

0.3

Very good drama. Tomasz Kot awesome as usual.

0.3

Truman (2015) 4/5

2016-04-13 23:45

Quiet drama about life, death and friends. Simple, yet powerful.

0.3

Listy do M. 2 (2015) 3.5/5

2016-04-12 23:41

Kind of meh, but has its charms.

0.3

Obce Niebo/Strange Heaven (2015) 3.5/5

2016-04-11 23:54

Decent. I think that what has been shown would not be enough to take your child away. Or at least I hope so.

0.3

Suburra (2015) 5/5

2016-04-11 00:01

Wow, just wow. Excellent storytelling, awesome movie.

0.3

The Hunger Games: Mockingjay - Part 2 (2015) 1.5/5

2016-04-09 23:35

Better than the part one, but still all is cringe worthy.

0.3

Good! Although your kids need to be little older to not be scared.

0.3

The Hunger Games: Mockingjay - Part 1 (2014) 1/5

2016-04-08 23:26

Wow, what a bullcrap. Why do I even watch this is beyond me.

0.3

Demon (2015) 3.5/5

2016-04-07 23:33

Decent, not great.

0.3

Er ist wieder da / Look Who's Back (2015) 2.5/5

2016-04-06 23:26

So-so.

0.3

Anatomia zla (2015) 4.5/5

2016-04-05 23:43

Wow, this was an extremely good thriller!

0.3

Decent, decent. Slow and quirky at first, but captured my full attention in the second half.

0.3

Le tout nouveau testament / The Brand New Testament (2015) 3/5

2016-04-03 23:47

OK watch. A couple of really funny moments.

0.3

March, 2016

11 Minut / 11 Minutes (2015) 3/5

2016-03-31 23:25

Interesting, but ultimately weird.

0.3

D'Ardennen / The Ardennes (2015) 4/5

2016-03-28 23:27

Decent.

0.3

Legenda No. 17 / Legend No. 17 (2013) 4.5/5

2016-03-25 23:14

Beautiful story, excellent movie.

0.3

Que Horas Ela Volta? / The Second Mother (2015) 3.5/5

2016-03-24 23:36

Really simple movie, but with a decent and captivating story.

0.3

Trumbo (2015) 4.5/5

2016-03-22 23:51

Brilliant story, brilliant movie, exceptional man. Ah, what a dark times for USA the 50s were with this witch hunt. So much resemblance to current ('2016) situation in Poland.

0.3

Concussion (2015) 4.5/5

2016-03-22 00:29

Great biopic about a very important topic. Especially for parents (is soccer safe? hokey certainly isn't...).

0.3

Creed (2015) 2.5/5

2016-03-20 23:55

Kind of boring and full of cringe worthy moments. Watchable, but not much more than that.

0.3

Fuckin' A. A triple A, AAA!

0.3

Incredible movie about an incredible man.

0.3

Grandma (2015) 4/5

2016-03-17 22:53

Very nicely said quiet drama with a lot of bang and rattle here and there.

0.3

Karbala (2015) 4/5

2016-03-09 00:01

Very good war drama about real events with Polish soldiers in Karbala.

0.3

1944 (2015) 4/5

2016-03-06 23:27

Decent war movie from Estonia.

0.3

Spotlight (2015) 5/5

2016-03-04 23:51

Excellent. Just excellent. Deserves all the awards and all the spotlight it can get. A must watch.

0.3

A couple of decent laughs. All I needed tonight.

0.3

February, 2016

Room (2015) 5/5

2016-02-27 23:46

Wow, that was a very moving film. It grasps your heart and doesn't let go.

0.3

A well deserved 10 despite all the simplifications and changes compared to the book. Good Sci-Fi is good Sci-Fi. My favourite genre.

0.3

Remember (2015) 4/5

2016-02-24 23:28

Decent thriller. Not Egoyan's best work, but good nonetheless. Excellent ending.

0.3

Amy (2015) 4/5

2016-02-12 00:01

Life too short, career too fast. Very sad and tragic story.

0.3

Totales absurdes. Watchable, but it's not an easy movie.

0.3

Spectre (2015) 3/5

2016-02-09 23:57

Kind of OK, but not that engaging. It's still a Bond movie, so you still enjoy it to a degree.

0.3

Loin des hommes / Far from Men (2014) 4.5/5

2016-02-09 00:19

Excellent drama. Quiet, slow yet so powerful.

0.3

Legend (2015) 3/5

2016-02-07 23:36

So-so. The tone was wrong. Instead of brutal, raw sheet terror, we had a light-hearted comedy. It's an OK watch, but could have been so much better.

0.3

Just OK. The story is so well known that there were really no surprises here, which kind of impacted the overall impression of the movie.

0.3

45 Years (2015) 3.5/5

2016-02-01 00:17

Decent.

0.3

January, 2016

99 Homes (2014) 3.5/5

2016-01-31 00:08

Decent.

0.3

Bridge of Spies (2015) 4.5/5

2016-01-29 23:57

Excellent story brilliantly told!

0.3

Jobanni no shima / Giovannis Insel (2014) 4.5/5

2016-01-11 23:33

Beautiful and moving picture. Very sad too. I wasn't aware Russia invaded Japan in 1945 after Japan's capitulation.

0.3

Surprisingly charming. Quite moving as well. It has lots of exaggerated moments too, as most Korean movies, unfortunately.

0.3

Woodlawn (2015) 2.5/5

2016-01-08 23:26

Meh. Too religious for my taste, with too little sport.

0.3

The Diary of a Teenage Girl (2015) 3/5

2016-01-06 23:20

Okay. Just ok.

0.3

Roald Dahl's Esio Trot (2014) 2.5/5

2016-01-05 23:11

Meh. Predictable and somewhat annoying, with just a little bit of charm to keep you occupied.

0.3

Serce, serduszko / The Heart and the Sweetheart (2014) 3/5

2016-01-03 00:20

Okeyish. Has it's charm.

0.3

Carte Blanche (2015) 4.5/5

2016-01-02 00:13

Wow, what a treat! Very surprising.

0.3

December, 2015

The Walk (2015) 3/5

2015-12-30 00:13

Kinda meh. The original docu was much more captivating. This one's still has some charms and will keep you on your toes just as much.

0.3

Darbareye Elly / About Elly (2009) 2.5/5

2015-12-29 00:23

So-so. All those lies in order to keep honour. Meh.

0.3

Everest (2015) 4/5

2015-12-28 00:36

Not necessarily a great movie, yet a gripping and poignant story.

0.3

Ah, good old Woody Allen. Always a joy to watch.

0.3

Sicario (2015) 5/5

2015-12-25 23:54

Wow. What a treat! Excellent, just excellent.

0.3

Aferim! (2015) 3.5/5

2015-12-21 23:58

Interesting Romanian tale. I wasn't aware that gypsies were slaves up until mid 19th century in Romania.

0.3

Very good story of a late chess master Bobby Fischer. Or rather about his unfortunate psychosis.

0.3

So-so. Had its charms, but overall it's wasn't that engaging or good.

0.3

Song of the Sea (2014) 4.5/5

2015-12-19 18:52

Wow, that was a really surprising treat for me. Incredible story deeply rooted in Gaelic myths. Excellent watch.

0.3

Bone Tomahawk (2015) 4.5/5

2015-12-17 23:58

Wow, that was a surprising treat. Raw brutality. Me likey.

0.3

Marina Abramovic: The Artist Is Present (2012) 3.5/5

2015-12-15 23:17

Modern art is very modern.

0.3

Ambassada (2013) 3.5/5

2015-12-11 23:44

Stupid, but overall decent. Rewarding ending.

0.3

Kaguyahime no monogatari / The Tale of the Princess Kaguya (2013) 3.5/5

2015-12-10 23:41

Decent story, maybe a bit too long.

0.3

Kaze tachinu / The Wind Rises (2013) 5/5

2015-12-08 00:24

Beautiful poignant drama about the designer of the Japanese WW2 Zero Fighter. Wonderful story, even though parts of it have been fictionalized.

0.3

Omoide no Mânî / When Marnie Was There (2014) 4.5/5

2015-12-03 00:02

Beautiful, poignant drama. Very slow at first, but picks up the pace for the wonderfully rewarding ending. It would be really sad if this was Studio Ghibli's final piece.

0.3

Horící ker / Burning Bush (TV Mini-Series 2013) 4.5/5

2015-12-02 00:15

Beautiful and poignant story of Jan Palach, a symbol of fight against the communist oppression. It makes you really angry to see what Russia and their totalitarian oppression of the Eastern European countries in the communism era did to the citizens of countries like the Czech Republic (or my own, Poland).

0.3

November, 2015

Liza, a rókatündér / Liza the Fox-Fairy (2015) 4.5/5

2015-11-29 23:30

Absurdly funny. Nice ride.

0.3

Shaun the Sheep Movie (2015) 3.5/5

2015-11-29 17:33

Decent and funny. Perfect to watch with your kids.

0.3

Talvar / Guilty (2015) 3.5/5

2015-11-29 00:04

Decent, even though kind of a let down, but that's because it is based on facts, so that's how it was.

0.3

Elser / 13 Minutes (2015) 3.5/5

2015-11-27 23:45

Decent story. 13 minutes and we would have a completely different world. Ah, one can dream.

0.3

Olive Kitteridge (TV Mini-Series 2014) 5/5

2015-11-27 00:09

Excellent drama. Poignant, sad, fun, tragic, dramatic. It has it all.

0.3

Unsere Mütter, unsere Väter / Generation War (TV Mini-Series 2013) 4.5/5

2015-11-24 23:46

Excellent mini-series. I have enjoyed it tremendously, even though it showed Polish people in a very bad light.

0.3

Victoria (2015) 2.5/5

2015-11-22 23:35

This was OKEYISH. I give it some credit for shooting in one long shot. The rest was just ok. Just lots of stupidity all around.

0.3

Ant-Man (2015) 1/5

2015-11-20 23:53

I seriously need to stop watching this Marvel crap. It's beyond ridiculous now. The only good thing in this movie is the ant/dog joke, which makes me think they were inspired by our own Wardęga's "spider dog".

0.3

Nie yin niang / The Assassin (2015) 3.5/5

2015-11-15 23:50

Beautifuly shot, but very hard to follow/understand. Imdb forums (as usual) were very helpful.

0.3

Very decent, although I lack full historical context to fully appreciate this movie. Unfortunately.

0.3

The Man from U.N.C.L.E. (2015) 4.5/5

2015-11-11 23:47

Super-agents movies are super fun!

0.3

Mission: Impossible - Rogue Nation (2015) 4.5/5

2015-11-10 23:51

Impossibly stupid and impossibly enjoyable. Great fun!

0.3

Infinitely Polar Bear (2014) 4/5

2015-11-09 23:45

Very good, unconventional family movie.

0.3

Youth (2015) 4.5/5

2015-11-09 00:11

Beautiful.

0.3

October, 2015

Frequencies (2013) 4.5/5

2015-10-31 23:34

Very decent philosophical flick.

0.3

Self/less (2015) 3/5

2015-10-30 23:22

Excellent premise and first half of the movie. Ruined and kind of senseless the other half.

0.3

Body / Ciało (2015) 3.5/5

2015-10-29 23:29

Decent.

0.3

Ned Rifle (2014) 4/5

2015-10-28 23:42

I seem to have forgotten how intriguing and funny Hal Hartley is. I used to enjoy his movies tremendously and this one does not disappoint.

0.3

The Gift (2015) 4/5

2015-10-26 23:19

Surprisingly good! Excellent storytelling, I was shocked by the sharp turn mid-time.

0.3

Wow, that was exceptionally good!

0.3

Life Itself (2014) 3.5/5

2015-10-25 00:39

I haven't realized how big impact on the movie industry he had. Very interesting docu.

0.3

The Salt of the Earth (2014) 1.5/5

2015-10-24 23:41

Boring...

0.3

Güeros (2014) 1.5/5

2015-10-24 23:15

Boring... Too boring.

0.3

Borgman (2013) 4/5

2015-10-24 00:29

What a movie! Totally absurd, yet very funny. And scary. And lots of dead people.

0.3

Goodnight Mummy (2014) 2.5/5

2015-10-22 00:02

Uhh... it is a pretty weird movie and I'm not sure I have enjoyed it. The "revealing" is kind of good, though.

0.3

Im Keller / In the Basement (2014) 2.5/5

2015-10-20 00:07

I think it would be better for those things those people do in their basements if they remained there.

0.3

Yume to kyôki no ôkoku / The Kingdom of Dreams and Madness (2013) 3/5

2015-10-19 22:44

The great master at work. Extraordinary person yet a not so that engaging movie.

0.3

Casse-tête chinois / Chinese Puzzle (2013) 4.5/5

2015-10-19 00:02

Surprisingly good, even though I hardly remember anything about the previous movies.

0.3

Nice little movie Watchable, but hardly great.

0.3

Finding Vivian Maier (2013) 3.5/5

2015-10-16 23:29

Incredible story, decent docu.

0.3

A little bit too amateurish for me. The story is ok, but the movie could be much better.

0.3

Ugh. What a buttload of crap. All those Sci-Fi movies stopped making any sense these days. Avengers, Star Trek, X-Men and now Terminator.

0.3

Avengers: Age of Ultron (2015) 1.5/5

2015-10-13 00:02

Wow, what a crap! There were maybe two good jokes out there out of hundred thrown my way. Apart from that the story was just plainly stupid. The dialogs cringe worthy. Eh.

0.3

Służby specjalne / Secret Wars (2014) 3/5

2015-10-11 23:34

Decent interpretation of Polish latest history, although the movie itself is way too chaotic and complicated to fully comprehend.

0.3

Dope (2015) 3/5

2015-10-11 00:04

Okeyish. Watchable, but kind of quirky and hardly believable.

0.3

Balada triste de trompeta / The Last Circus (2010) 3/5

2015-10-06 23:41

Absurd fairytale for grown up. Has its charms, but it's mostly too weird for my taste.

0.3

Anime nere / Black Souls (2014) 4.5/5

2015-10-06 00:10

Captivating, almost surreal yet so real at the same time. And so tragic. So surprising. Gangster/mafia movie almost without shooting. Without action. Without chases.

0.3

Soof / Lessons in Love (2013) 4.5/5

2015-10-04 23:36

Excellent! Had a really great fun watching it.

0.3

Southpaw (2015) 3.5/5

2015-10-03 23:45

So-so. Good watch, but the story is way too simplified.

0.3

Man Up (2015) 3.5/5

2015-10-02 23:13

Surprisingly good. And funny, like really funny too.

0.3

September, 2015

Hwayi: Gwimuleul samkin ahyi / Hwayi: A Monster Boy (2013) 3/5

2015-09-28 00:27

Ah, the Korean action movies. Can you be not so much fucked up, story wise? It was kind of a good watch, but the characters and the story were way over the top.

0.3

Jurassic World (2015) 3.5/5

2015-09-27 00:26

Ah, what a waste! It had potential, it got me going, but oh boy how utterly stupid it is. Exceptionally poor storytelling, lots of logical errors and simplistic (mostly stupid) characters. It's still a good terror show-off, that is enjoyable to watch if you are able to close your eyes on the shortcomings.

0.3

Very stupid movie. Unfortunately quite good at the same time. Ah, Hollywood, why do you make such promising movies in a such crappy way?

0.3

Me and Earl and the Dying Girl (2015) 4/5

2015-09-25 00:05

It's a good movie about a very difficult subject. I think I liked it, although not as much as I thought I would. The homage made to Werner Herzog was really cool, though.

0.3

Fack ju Göhte / Suck Me Shakespeer (2013) 3/5

2015-09-21 00:06

Okeyish. And funny too at some moments.

0.3

Spy (2015) 2.5/5

2015-09-19 23:58

Meh. Watchable and it has some good jokes in it, but it's so stupid and cringe worthy at the same time.

0.3

Śmierć rotmistrza Pileckiego (TV Movie, 2006) 5/5

2015-09-18 23:35

A movie which makes you really angry. Mostly against UK/US at the Yalta conference in 1945, where they have basically sold Poland to be occupied by Russia for 44 years. And for killing one of the bravest heroes of WW2. Such a disgrace.

0.3

Papusza (2013) 3.5/5

2015-09-13 23:22

Great story well told.

0.3

Chce się żyć / Life Feels Good (2013) 4.5/5

2015-09-12 23:46

Extremely hard subject treated with a light touch. Rewarding experience.

0.3

Das ewige Leben / Life Eternal (2015) 4/5

2015-09-12 00:04

Surprisingly good! Had some great laughs watching this.

0.3

Excellent thriller! I have enjoyed it tremendously.

0.3

Geograf globus propil / The Geographer Drank His Globe Away (2013) 4.5/5

2015-09-07 00:06

Excellent story, great film-making. And, well, Russia. This movie is almost too Russian.

0.3

Very good story. Horrifying too.

0.3

Major / The Major (2013) 3.5/5

2015-09-03 23:41

Corruption en masse. Painful watch.

0.3

9. april / April 9th (2015) 3.5/5

2015-09-02 23:57

Decent history lesson.

0.3

August, 2015

W ukryciu / In Hiding (2013) 2.5/5

2015-08-27 22:37

Not my cup of tea. It was a good movie, but the main character was too psychotic for me.

0.3

Awesome story, which could have actually happened but we don't know it for sure.

0.3

Fotograf / The Photographer (2014) 4.5/5

2015-08-24 23:24

Modern day horror movie. It was *almost* real.

0.3

Awesome Communist era thriller/action movie. Superb acting and incredible story (which might be even true, who knows for sure).

0.3

Jeziorak (2014) 4.5/5

2015-08-22 23:28

Excellent Polish thriller. I've had great fun watching it.

0.3

Wow, what a treat! Sure, it was a "little bit" over the top, but it was so enjoyable that you do not care about it.

0.3

L'image manquante / The Missing Picture (2013) 3/5

2015-08-20 00:21

Important, but rather tiring film.

0.3

Timbuktu (2014) 3/5

2015-08-17 23:38

Hard to rate this movie in a justified way. It's a tragic story (which is true to a degree), told in an unpleasant way. The injustices presented are horrible.

0.3

A little bit absurd, but kind of good.

0.3

The Hobbit: The Battle of the Five Armies (2014) 4.5/5

2015-08-11 23:37

It's Middle Earth, so what can I say. I loved it, even though it is flawed beyond belief. Everything comes "too easy", the story is flattened, lacking any depth. The characters are rather shallow...

0.3

The Hobbit: The Desolation of Smaug (2013) 4.5/5

2015-08-10 23:56

Quite bad (story/action wise), but extremely enjoyable none the less.

0.3

The Hobbit: An Unexpected Journey (2012) 4.5/5

2015-08-09 23:31

A trip to the Middle-earth again. Treat as usual.

0.3

Mia madre / My Mother (2015) 2.5/5

2015-08-09 00:07

Okeyish. A little bit too sophisticated for me.

0.3

Doskonałe popołudnie / The Perfect Afternoon (2005) 4.5/5

2015-08-07 23:56

Great storytelling and a great portrait of Poland at that time. Not that much have changed since, yet so much have changed.

0.3

Wow, what a beautiful story! Tremendously enjoyed it.

0.3

Głośniej od bomb / Louder Than Bombs (2001) 4.5/5

2015-08-06 00:06

Surprisingly awesome! Felt like an OFF cinema and I guess it was very much like it. Funny as hell too.

0.3

Wir sind jung. Wir sind stark. / We Are Young. We Are Strong. (2014) 3.5/5

2015-08-04 23:33

Decent.

0.3

Zbliżenia / Close-ups (2014) 4/5

2015-08-02 23:16

Decent. Tragic. And powerful.

0.3

Raw brutality fuelled by vengeance.

0.3

July, 2015

Obława (2012) 4.5/5

2015-07-29 23:30

Very good!

0.3

Artifact (2012) 3.5/5

2015-07-26 23:49

Decent look at the struggle that 30 seconds to Mars had to go through.

0.3

Twice Born (2012) 4.5/5

2015-07-25 23:15

Incredible story...

0.3

Home (2015) 2.5/5

2015-07-25 18:31

So-so. It's watchable, but not that much enjoyable.

0.3

Wow, such a simple story but it has struck just the right chords...

0.3

Obywatel (2014) 5/5

2015-07-23 23:37

Wow, what a treat! Awesome look at Poland and what it is to be Polish. Had a great laugh.

0.3

Frag (2008) 4.5/5

2015-07-21 23:58

It's been 7 years to late for me to watch this movie, but it was good trip down the memory lane. The doc itself is not that good, but its content is very close to my heart (I was playing videogames "almost" professionally - winning at some local tournaments - at times of celebrities like Thresh or Fatal1ty).

0.3

Kumiko, the Treasure Hunter (2014) 2.5/5

2015-07-14 23:48

Yeah, ok...

0.3

Twenty Feet from Stardom (2013) 3/5

2015-07-14 00:12

Good, not great. Interesting stories, intriguing personalities.

0.3

The Duke of Burgundy (2014) 1.5/5

2015-07-12 23:54

Uhm, not my cup of tea.

0.3

Very good story with heart and warmth.

0.3

Kano (2014) 4/5

2015-07-08 00:00

Decent, even very decent. It's not a Hollywood made sports movie (those are the best), but it is not that far off.

0.3

Małe stłuczki / Little Crushes (2014) 3.5/5

2015-07-06 23:25

Unconventional love story.

0.3

Mr. Turner (2014) 3.5/5

2015-07-05 23:45

Decent, although it helps greatly if you know something about his art and the period he was painting in.

0.3

Michiel de Ruyter / Admiral (2015) 4.5/5

2015-07-04 23:43

Wow, that was one awesome piece of cinema! It was also quite surprising to see how fucked up Holland was at that time.

0.3

Penguins of Madagascar (2014) 2.5/5

2015-07-04 19:03

So-so. Few good laughs, but apart from that it's mostly meh.

0.3

Myeong-ryang / The Admiral: Roaring Currents (2014) 4.5/5

2015-07-04 00:08

Wow, what an incredible story! It is even more surprising to know how close to the truth it was (at least when it comes to number of losses on both sides).

0.3

Miłość / Loving (2012) 4.5/5

2015-07-02 23:58

Very good. Perhaps too dramatic (some things could be less tragic), but it's a solid piece of cinema.

0.3

Slow West (2015) 4/5

2015-07-01 23:48

"In a short time, this will seem like a long time ago." sums up this movie's climate pretty nicely.

0.3

June, 2015

Neadekvatnye lyudi / Inadequate People (2010) 4/5

2015-06-30 23:55

Hah, that was weird, quirky and good!

0.3

Moja Australia / My Australia (2011) 2/5

2015-06-29 23:53

Very so-so. Poor dialogues and acting...

0.3

Selma (2014) 4/5

2015-06-27 23:30

Ah, USA. What a crappy country you were...

0.3

Obce ciało / Foreign Body (2014) 2/5

2015-06-25 23:51

Quite bad. Not that bad as they have described it, but not much better either.

0.3

Wow, that has really taken me. It wasn't a masterpiece, but the story told is just so great...

0.3

Unexpectedly good and entertaining.

0.3

Last Vegas (2013) 2.5/5

2015-06-22 23:29

So-so. Good beginning with some intelligent jokes, but goes downhill quickly afterwards.

0.3

La French / The Connection (2014) 4/5

2015-06-21 23:58

Very good French biopic about taking down the infamous drug cartel The French Connection. I had no idea they were killing high officials in France just as they did in Italy.

0.3

Samba (2014) 3/5

2015-06-20 23:27

Just barely good. Very slow in the beginning.

0.3

Pek Yakinda / Coming Soon (2014) 3.5/5

2015-06-19 23:32

Stupid, but funny.

0.3

Painful, but rewarding watch.

0.3

Game of Thrones S05 (TV Series, 2015) 4.5/5

2015-06-16 23:12

Oh come on, come on! It's still an awesome show, but oh boy it is irritating. With stupid plots, stupid characters... and the killing of wrong ppl!

0.3

Tore tanzt / Nothing Bad Can Happen (2013) 3.5/5

2015-06-11 23:21

Ugh. That was almost a torture to watch it till the end. Only to discover it's based on a true story...

0.3

Das finstere Tal / The Dark Valley (2014) 4/5

2015-06-09 22:59

Revenge is a dish best served cold. This one's just a little bit too warm. Still excellent, though.

0.3

Kajaki (2014) 4/5

2015-06-08 23:04

Total clusterfuck. That's what this movie was about. True war story.

0.3

Bogowie (2014) 5/5

2015-06-07 23:06

Wow, just wow. Incredible story, incredible man.

0.3

Fifty Shades of Grey (2015) 1.5/5

2015-06-06 22:59

Meh.

0.3

Yeah, it was okeyish. If it only wasn't for the unrewarding ending...

0.3

Very decent watch. This time Liam Neeson doesn't disappoint.

0.3

Ilo Ilo (2013) 4/5

2015-06-01 23:14

Decent watch. Very decent, in fact.

0.3

May, 2015

That was one awesome piece of cinema. I was literally screaming out of joy seeing the beauty of the created universe. It was gorgeous. One of the best if not the best drawn Sci-Fi universe ever. Sure, the story was cheesy, the characters underdeveloped and full of way too many cliches but oh boy did I enjoy it!

0.3

Wow. I am truly impressed. A serious movie about AI that gets everything just right. Just wow...

0.3

Chappie (2015) 3.5/5

2015-05-29 23:20

Yeah, ok. If it only wasn't so stupid when it comes to AI/technology, oh, and dialogs. Total crap, if you ask me. It's still very much enjoyable (apart from the frequent "omg what a stupidity").

0.3

Le prénom / What's in a Name? (2012) 4/5

2015-05-28 23:12

Decent. Lots of good laughs but also a handful of forced ones. Little tiring at times, but rewarding in the end.

0.3

Wu ren qu / No Man's Land (2013) 4/5

2015-05-27 23:13

Enjoyable Chinese western borrowing heavily from Hollywood (Quentin Tarantino in particular).

0.3

The Interview (2014) 2.5/5

2015-05-25 22:51

Okay-ish. Few good laughs and that's pretty much it.

0.3

Kingsman: The Secret Service (2014) 4.5/5

2015-05-24 23:35

What a ride! Excellent violent James Bond parody.

0.3

Interesting, intriguing, funny, weird.

0.3

Die Unsichtbare / Cracks in the Shell (2011) 4/5

2015-05-22 23:01

Decent drama.

0.3

Very warm and charming little gem.

0.3

U-neun nam-ja / No Tears for the Dead (2014) 3.5/5

2015-05-18 23:15

Comes nowhere close to the *perfect* Man From Nowhere. Unfortunately. It's still an OK watch, but is gets way too serious.

0.3

Decent. Uplifting in a very Hollywood manner. And that's good. Nothing original here, though.

0.3

Focus (2015) 2.5/5

2015-05-16 23:16

So-so. Enjoyable at times, but way too mixed up with romance and cons.

0.3

Wow, just wow... I'm speechless...

0.3

Phoenix (2014) 4/5

2015-05-04 23:39

Exceptional. Although very ambiguous in some parts (what was the relationship between all main characters? were they all in the scam? did he really betray her? was she really Jewish?), without clear answers on imdb forums.

0.3

American Sniper (2014) 4.5/5

2015-05-03 23:59

Excellent portrait of Chris Kyle. It's up to you to decide how big hero he was in this perhaps unnecessary (if not senseless) war.

0.3

Innocence (2011) 4.5/5

2015-05-02 23:23

Very good. Makes you think about real innocence of the protagonist.

0.3

Very good, but very sad.

0.3

April, 2015

Who Am I - Kein System ist sicher (2014) 3.5/5

2015-04-30 23:55

Watchable and enjoyable, but a little bit too much Hollywood like.

0.3

A Girl Walks Home Alone at Night (2014) 1.5/5

2015-04-25 00:33

Very so-so. Stylish, true, but also lacks a decent story to accompany it.

0.3

Imagine (2012) 4.5/5

2015-04-20 00:16

Wow, what a treat! Excellent "break the rules" movie.

0.3

Les neiges du Kilimandjaro / The Snows of Kilimanjaro (2011) 4.5/5

2015-04-14 00:03

Excellent story. Love those socialist French movies.

0.3

Unbroken (2014) 4/5

2015-04-12 00:09

Great story, very good watch.

0.3

Mommy (2014) 4.5/5

2015-04-09 00:05

Awesome. Just awesome.

0.3

Héroes / Heroes (2010) 4.5/5

2015-04-07 23:57

What a little gem this movie was. Very sad, but also very good.

0.3

A Most Violent Year (2014) 5/5

2015-04-07 00:00

Wow, what a treat! Really surprised by how good that was. Awesome, just awesome.

0.3

March, 2015

Big Eyes (2014) 4.5/5

2015-03-31 00:28

Phenomenal story and an excellent movie. I laughed, I cried, I symphatized.

0.3

Wild (2014) 4/5

2015-03-28 23:26

Very captivating, despite being a story about solitude.

0.3

Salting the Battlefield (TV Movie 2014) 3.5/5

2015-03-28 00:17

Decent, not great. Perhaps a little bit disappointing, but I suppose that was the point of the story. You just don't really win.

0.3

Turks & Caicos (TV Movie 2014) 4/5

2015-03-27 00:10

Delightful and very much enjoyable. Looking forward to the final act in the trilogy.

0.3

Exodus: Gods and Kings (2014) 4.5/5

2015-03-24 00:13

What a surprising treat! A very good and very graphic retelling of thse Moses story. Enjoyed it very very much.

0.3

Komt een vrouw bij de dokter / Stricken (2009) 4/5

2015-03-22 00:17

Decent. Sad and tragic too.

0.3

Alois Nebel (2011) 4.5/5

2015-03-21 00:19

Wow, that was a unique experience. A tragic story presented in a very subtle way.

0.3

I Origins (2014) 4/5

2015-03-19 23:56

Very enjoyable. Asks good questions. Doesn't give any answers, though.

0.3

Kraftidioten / In Order of Disappearance (2014) 4/5

2015-03-17 23:36

Very decent. Loved the humour!

0.3

Coherence (2013) 3.5/5

2015-03-12 00:18

Quite decent, I have to say.

0.3

'71 (2014) 4.5/5

2015-03-11 00:02

Wow, what a treat! And what a fucked up situation in North Ireland there was...

0.3

Miasto 44 / Warsaw '44 (2014) 5/5

2015-03-10 00:18

Wow, that was a surprise. Powerful, gripping, emotional story about war, courage... and love. Just awesome.

0.3

Wow, just wow. Of course, I knew the broad story, but boy oh did those details shine. The whole syping conspiracy, the dynamics. It was marevelous! And what a sad state the UK law had been at the time. They have killed one of if not the greatest mind of that time.

0.3

Suprispingly funny and quite good! Especially the last "sign speach" part.

0.3