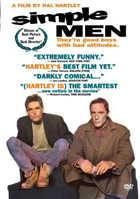 Right after seeing this movie I have realized that I've been mixing up Richard Linklater with Hal Hartley. In fact, I thought they were both the same person as their movies are so much alike. You may characterize their work as being a philosophical suburban grotesque as one IMDb reviewer has said. And he is so right. Almost all of the work done by both directors falls into this category and Simple Men is no different.
The story is actually quite absurd, as it follows two brothers travelling from New York to Long Island. One in search of their father, other trying to escape from the police. While absurd may it not sound, absurd in fact it is. Other thing to mention are the quotes from the movie. Here's the one I like the most:
– You shouldn't do that [kiss me].
– Why not?
– Because I'm your father's girlfriend.
– My father is a womanizer. He's a married man and he stood you up.
– You have no respect for your father.
– I don't know him, but I respect his taste in women.
– So then go and make love to your mother.
Simple Men is filled with similar dialogs from top to bottom. The movie is a very enjoyable ride. As they say Long Island is a state of mind. Or was it New York?
Rating: 8/10