WP Movie Ratings is a wordpress plugin perfect for movie fans who like to let the world know their opinion on what they've been watching. At its core is a bookmarklet, which combined with Internet Movie Database and a little bit of AJAX magic lets you rate movies with just one click. Also, there is no need to write the title of the movie as it is automatically fetched from imdb. Optionally, you can also write a short review for each movie. The output from this plugin is a list of recently watched movies, which you can put anywhere you want (it is a WordPress widget). Check out the live demo.
The published movie reviews are hReview compliant.

Latest stable version (for WordPress 2.8+): 1.8 (tar.gz, zip) (2019-10-13).
The current development version can be found at github.
Screenshots
Recently watched movies list: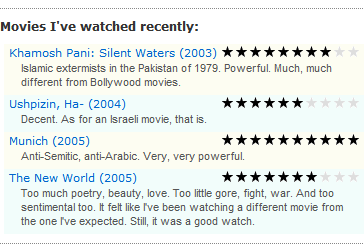 Bookmarklet in action (one click movie rating):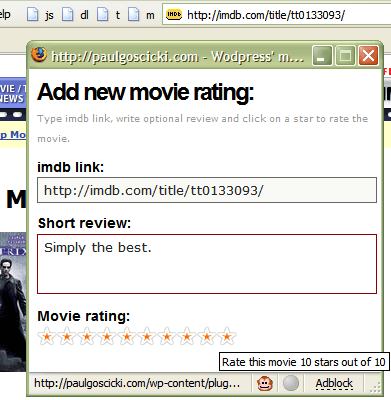 Requirements
WordPress 2.8+
FTP, SSH or SCP access to your wordpress blog (so you can upload this plugin).
Installation
Download the plugin.
Extract the contents of the .tar.gz/.zip file into the WordPress plugins directory (usually wp-content/plugins). Alternatively you can upload them using ftp. You should have a new directory there called wp_movie_ratings (just along the akismet directory).
Activate the plugin by going into your administration panel and selecting Plugins from the menu and clicking the Activate button for the WP Movie Ratings.
Go to the Manage section in the administration panel and see the new Movies menu option there (you'll find the bookmarklet there too). Rate at least one movie (using the bookmarklet or the administration page).
Go to the settings section in the administration panel and under the Movies tab customize this plugin's options.
Customize your theme by adding a new Widget to its sidebar called "Movie Ratings".